News & Events
News & Events
Free Webinar on Thursday 23 Feb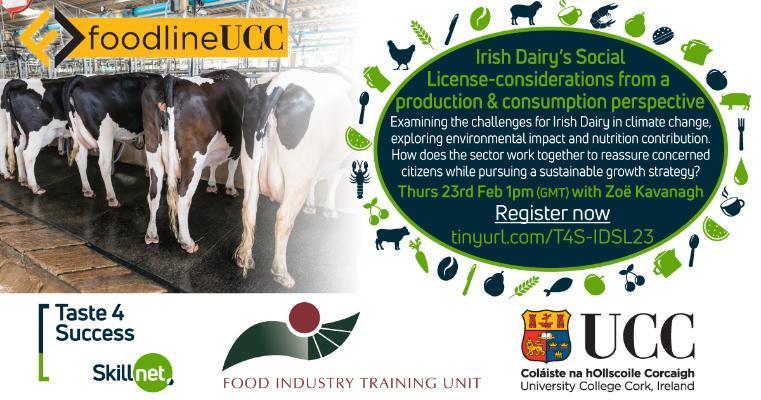 Topic: Irish Dairy's Social License - considerations from a production & consumption perspective,
Date: Thursday the 23rd February,
Time: 13:00-14:00 GMT

Click here to register for this free webinar
FoodlineUCC, located within the Food Industry Training Unit (FITU), School of Food and Nutritional Sciences, University College Cork in partnership with Taste 4 Success Skillnet are delighted to host Zoë Kavanagh in this industry focused webinar as part of our Dairy Masterclass Webinar Sessions.
The webinar will examine the challenges for Irish Dairy in the face of climate change, exploring the balance between its environmental impact and nutrition contribution.
How does the sector work together to reassure concerned citizens while pursuing a sustainable growth strategy?
Speaker: Zoë Kavanagh has headed up the National Dairy Council since 2011 where she has been instrumental in marketing and promoting the Irish dairy category and its grass-based production credentials. Zoe is well networked across the global dairy industry and sits on the boards of the European Milk Forum (EMF), International Milk Promotion Group (IMP) and is very involved with the Global Dairy Platform (GDP). She regularly represents the Irish Dairy industry at conferences and events in Ireland and abroad.
The webinar will start at 13:00 GMT and will be followed by a live Question and Answer session.
Click here to register for this free webinar