News & Announcements
News & Announcements
Physical Education, Sports Studies and Arts welcomes North Carolina researchers for Community Research Project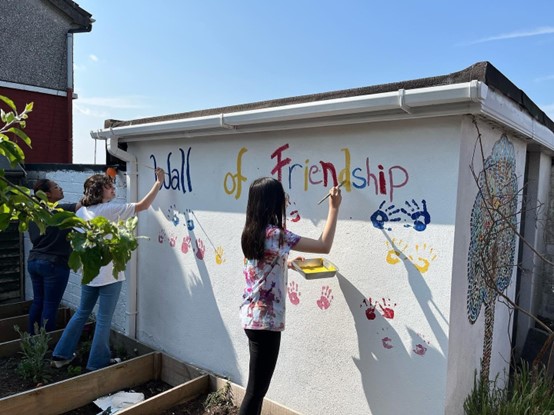 In collaboration with colleagues in the Cork Centre for Architecture education, and the Civic and Community Engagement unit, the School of Education in UCC was delighted to facilitate an embedded community research project with visiting scholars and undergraduate students from the University of North Carolina, Greensboro (UNCG) in the month of June. Nine UNCG students studying kinesiology, and communication studies, along with their two professors, Kristen Christman and Donna Duffy engaged in a community research project with the Fairhill Community Association.
The purpose of the project was to contribute to a larger feasibility project happening at UCC focused on how a new community centre could enhance the lives and wellbeing for all Fairhill residents. Using a positive communication model, the UNCG students and faculty sought to better understand how health and wellness "comes alive" in the Fairhill community. Following an inspiring lecture from Dr. Julien Mirivel, a worldwide leader in positive communication, which highlighted the creation and implementation of his positive communication model, which focused on behaviours that lead to the creation of a more positive social world; These seven behaviours include ''greeting, asking, complimenting, disclosing, encouraging, listening, and inspiring".
The UNCG group integrated themselves into the Fairhill community by attending various social activities on offer through the Community Association, including the men's art group, the ladies' crochet group, and children's after-school group. They showed their appetite and willingness for engagement with some hands-on volunteering work, and painting of local facilities. Their research project was conducted via a series of focus groups with the activity groups in Fairhill. Some key emerging themes from their findings include the valuable social function of the activity groups in terms of developing bonds with other members of the community, reducing anti-social behaviour, and how the accessibility of such programmes helped people deal with grief, loss, and provide connections during a turbulent few years. The focus groups also revealed that while the current work of the community association is highly appreciated, there is a need for a larger community centre to support the offering of more services for an ever-growing and young population in the area. The findings of such work will prove invaluable to the Fairhill Community Association as they progress with plans for a building with the Cork Centre for Architecture education, and the aim to secure council funding for such projects.
In addition to community work, educational and cultural events were organised by the Physical Education, Sports Studies, and Arts programme. A fun day in the Glen Resource Centre comprising of paintball and archery, Irish language lessons, and Gaelic games lessons, and a trip to West Cork and Kinsale were highlights for staff and our US visitors alike. Finally, two Gaelic Games matches were attended, much to the joy of our guests following their own efforts "down in the Mardyke"!
We would like to thank our colleagues in UNCG for their utmost professionalism and conduct during their stint and we look forward to continuing this partnership in the years to come.