News
News
Dental Hygiene & Dental Nurse Seminar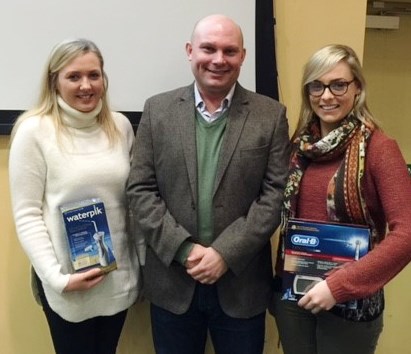 The Dental School and Hospital, UCC, recently held a Seminar for Dental Hygienists and Dental Nurses.
The Seminar was attended by in excess of 70 delegates and the feedback had been very postive. A very enjoyable and educational day was had by all.
Professor Martin Kinirons, Dean, welcomed the delegates. The Programme was varied and extremely informative and included topics such as 'The Perio-Jigsaw…Putting the Pieces Together' Professor Anthony Roberts, Professor of Restorative Dentistry (Periodontology) (CUDSH). Mr. David O'Flynn, Registrar of the Dental Council give a talk on recent 'Updates from the Dental Council'. Dr. Eimear Hurley, Clinical Fellow - Oral Health & Development (CUDSH) presented a very passionate presentation on 'New Dynamics in Paediatric & Oral Health Research'. 'Treating the Older Patient: Trends and Challenges' Dr. Cristiane da Mata, Lecturer in Restorative Dentistry (CUDSH). And to end the day 2 Dental Hygienist Ms. Kellie O'Shaughnessy, RDH, Lecturer Athlone IT and Ms. Siobhan Kelleher, RDH give a very enjoyable presentation 'Walk the Talk' that had the delegates in fits of laughter.