Experimental Imaging
Experimental Imaging
Multimodality imaging capability exists with a state of the art Philips cardiac catheter suite and a 64 row CT-PET imaging room in adjacent corridors. A full range of adult cardiac procedures can be performed including angiography, percutaneous angioplasty and stenting,ventriculography, FFR and CFR assessment of microvascular flow. Intravascular ultrasound and 2D echocardiography. Cardiac anatomy and function on CT and high fidelity pressure volume loop analysis using conductance catheters. 3D and 2D imaging of all cardiac and vascular structures using CT and molecular chemistry assessment using PET. A cardiac work station exist both on site and at the CRVB wet lab site where ethernet download of realtime and processed images is available.
The purpose of the experimental imaging facility is proof of concept and preclinical testing of devices, drugs, cells and other cardiovascular products prior to clinical translation.
Staff in this facility include a veterinary surgeon and pharmacologist, an imaging technologist, advanced interventional cardiology trainees, postdoctoral fellows and PhD Students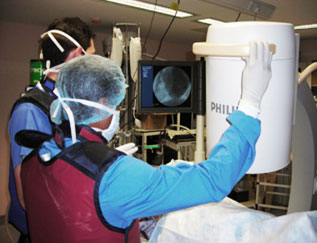 Imaging Capabilities
With our Phillips Catheterisation Laboratory and Angiography suite, we have the capability of imaging coronary and other vasculature to facilitate many types of percutaneous vascular intervention procedures.
With our GE 64 PET/CT Scanner, real time, non-invasive imaging in addition to functional assessment are available. We acknowledge the support of the National Biophotonics and Imaging Platform Ireland in the establishment of this facility.
CT 3D Render of Coronary Vasculature
LV Functional Assessment by Computed Tomography