Spoken Latin
Spoken Latin
Spoken Latin
In 2012, as part of the Third Tongue Project, Jason Harris established classes in Spoken Latin both as a means to cultivate the linguistic skills of researchers at the Centre and as a way of investigating the teaching, learning and influence of oral Latinity during the early-modern period. In July 2013, Jason Harris attended the Conventiculum Latinum in Lexington, Kentucky, and in September of the same year he and Jennifer Browne attended a meeting of the Circulus Latinus in London. In August 2013, a Latin conversation group led by Jason Harris, Jennifer Browne and Barty Begley began to meet weekly and continued to do so until the following spring.
After attending the Conventiculum in Kentucky again in July 2014, Jason Harris established a Schola Latina which met weekly on Tuesday evenings from September 2014 to April 2015.
Spoken Latin is now a regular part of research and teaching at the Centre and has also been introduced by members of the Centre into the undergraduate curriculum in the Department of Classics.
If you wish to consult an example of the Latin output of the group, you can find among the online publications on this website a conference paper given in Latin.
For more information on Spoken Latin at the Centre and how to get involved please visit our page on how to get involved.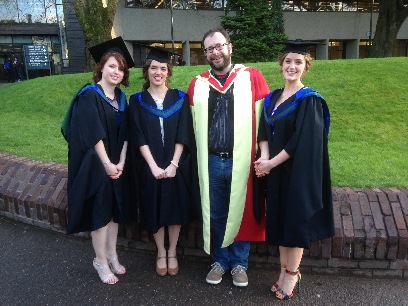 Jason Harris with three participants of the Schola Latina:
(from left to right) Alma O'Donnell, Ruth Pilcher, Aislinn McCabe
(February 2015)
Schola Latina/Spoken Latin Summer School
The Centre for Neo-Latin Studies hosts a week-long Summer School in Spoken Latin that is open to members of the general public.
The course involves complete immersion in Latin for seven days. Anyone who has completed a basic course in Latin grammar is welcome to participate.
The approach taken in the Schola Latina is modelled upon that developed by Terence Tunberg and Milena Minkova at the Conventiculum Latinum in Lexington, Kentucky.
The course is ideal for students and researchers who wish to develop their reading fluency and familiarity with Latin style and idiom. It is also intended to assist Latin teachers who wish to develop their ability to teach the language using an active approach in the classroom.
The Schola Latina has a particular focus upon how people in the European Renaissance revived the art of speaking and writing Latin in accordance with ancient grammatical and idiomatic norms. As such, the Schola would be especially valuable for anyone interested in the Renaissance period or in the history of Latin pedagogy.
Further information can be found on the Schola Latina webpage.