News & Updates
News & Updates
Greening our City Autumn Webinar Series
The ERI is delighted to announce the beginning of a series of Autumn webinars in partnership with SHEP Earth Aware, Green Spaces for Health, Cork Chamber and Cork Healthy Cities. The Greening Our City series will concentrate on opening up a discussion on how we might make Cork 'green'. Looking at what this means from many different perspectives, we will be inviting expert practitioners in this field from both Ireland and abroad to share their thoughts, ideas and experiences and providing ample opportunity for you to engage and discuss.
A greener city is not only more pleasant to live in, or to visit, it also improves the health, wellbeing and social cohesion of citizens, helps sustain biodiversity, mitigates the effects of climate change and provides opportunities for innovative and sustainable economic development.
A program of greening will be most effective if it involves a partnership of City Council, businesses, community groups and academics. It is hoped that this seminar and the further seminars in the series will contribute to building that partnership.
The first in the series will take place September 22 from 2.20-4pm where Professor Marcus Collier will talk about 'Connecting Nature, Bringing Life to the City'.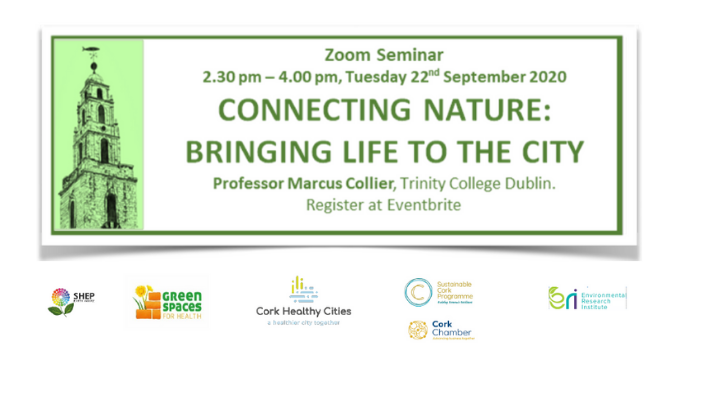 Professor Marcus Collier is Coordinator of Connecting Nature a consortium of 30 partners within 16 European countries and hubs in Brazil, China, Korea and the Caucasus. Connecting Nature works with local authorities, communities, industry partners, NGOs and academics who are investing in large scale implementation of nature based projects in urban settings. It measures the impacts of these
initiatives on climate change adaptation, health and well being, social cohesion and sustainable economic development in these cities. It is also developing a diversity of innovative actions to nurture the start up and growth of commercial and social enterprises active in producing nature based solutions.
This seminar is free of charge. Booking is essential, to register please BOOK HERE .
Dates for futures sessions are Tuesday, October 20 and Tuesday, November 24.