What's On
What's On
Le Chéile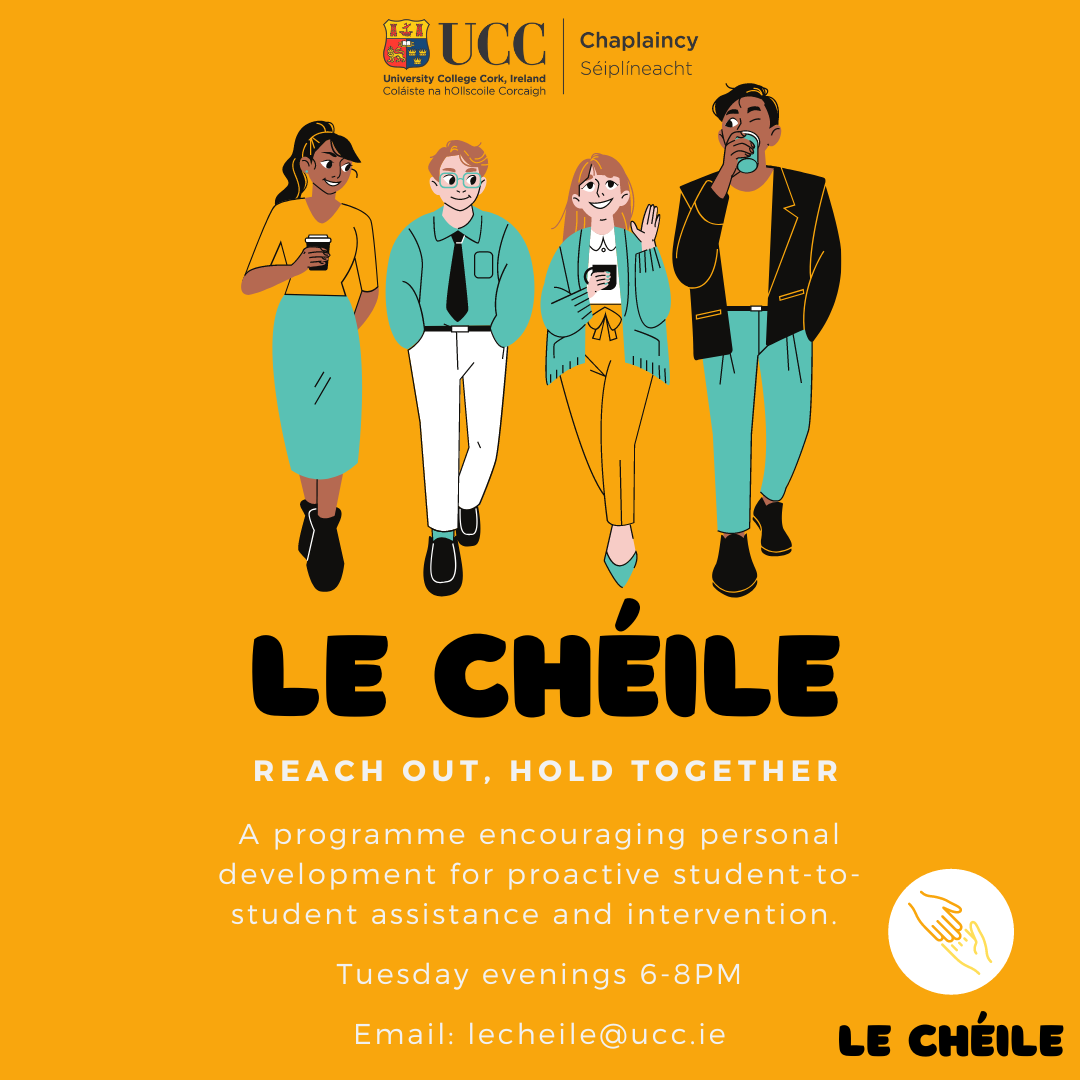 Le Chéile is a programme aimed to develop your personal skills for proactive student-to-student assistance and intervention. Starting Tuesday 10th October 2023 from 6-8pm. To sign up email lecheile@ucc.ie
Le Chéile is a programme encouraging personal skill development for proactive student-to student assistance and intervention. The programme runs for five weeks, bringing together qualified experts, both internal and external to UCC.
This skills-based programme was developed in response to various issues students encounter and is tailored to the bystander model of safe, effective intervention. It engages students in a shared learning experience to proactively recognise and respond to peers who are struggling and how to intervene in various situations. Over the 5 weeks, Le Chéile covers:
Week 1: Mental Health and Wellbeing with Tom Tate (Why Mind) and Active Listening with UCC Counselling
Week 2: Bystander Intervention with UCC Bystander Intervention
Week 3: Suicide Awareness with Cork Samaritans
Week 4: Drugs and Alcohol with Cork Local Drugs & Alcohol Task Force
Week 5: Student Feedback Session with UCC Chaplaincy
By the end of the programme students will:
Be more proactive in looking after themselves and each other.
Learn techniques and skills to enable them to recognise and intervene in various situations.
Be able to analyse unhealthy patterns in the lives of their peers and themselves.
Learn how to develop healthy habits to combat these patterns.
Learn how to actively listen and communicate.
Develop their own innate abilities to be able to assist and safely intervene where necessary.
Know how to refer peers to further services that they might need.
Be awarded a certificate for the completion of the START Suicide Awareness online training course.
For more on this story contact:
Starting Tuesday 10th October 2023 from 6-8pm for five consecutive weeks.
If you have any questions or would like to sign up, please email lecheile@ucc.ie for further information.
For the latest Chaplaincy news, follow us on Instagram and Facebook