News
News
The National Dairy Show on Slurry!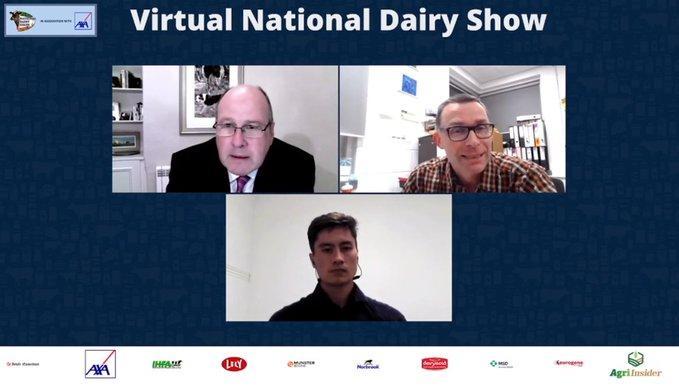 The National Dairy Show is Ireland's premier indoor agricultural event; the place where dairy farmers and dairy industries do meet. This year's meeting took place in the evening of October 20th and 21st, 2021, and was organised as a virtual event, as a result on the ongoing Covid19 crisis.
The on-line event covered a full range of topics relevant for the dairy industry, covering everything from innovation and machinery, to cattle breeding, sward-care, animal welfare and finance. Two critical areas for discussion related to the relationship between dairy farming and the environment. Discussions emphasised the complex relationship between climate change and dairy farming, and between slurry and the environment.
The latter discussion topic involved panel members Dr Richard O'Shea (School of Engineering and Architecture, UCC) and Prof Marcel Jansen (School of Biological, Earth and Environmental Sciences, UCC) and was led by the broadcaster and politician Ivan Yates. The panel met under the promising banner of "Redefining Slurry from Waste to Gold", to discuss new, exciting perspectives on managing slurry and related farm waste streams.
The issue of the environmental impacts of poor slurry management on water quality is well known as is the issue of the cost of slurry storage. Yet, the discussion emphasised that slurry is undervalued. Prof Jansen pointed out that retention of the nutrients in slurry for use as fertiliser is of increasing importance. The supply of alternative fertilisers to the farming industry is under pressure with worldwide resources of mineable rock phosphate dwindling, and costs of urea fertiliser rising steeply due to reliance on fossil fuel for its production. It has been estimated that 2% of worldwide fossil fuel consumption is used to produce urea from atmospheric nitrogen, an undesirable situation given the high levels of nitrogen present in farm waste streams. A wise use of slurry should increasingly form the backbone of a farm fertiliser strategy. However, this does not necessarily mean simply spreading slurry. Dr O'Shea discussed the various options to use slurry as a feedstock for anaerobic digestion, producing biogas that can be used directly as a source of heat, or converted into electricity.
Technology is well established, both in terms of small farm-based units or larger cooperative units, and is widely practiced in several continental European countries. At present anaerobic digestion is still relatively rare at Irelands dairy farms, and engagement with industry, energy networks and policymakers is needed to explore costs-benefits as well as potential of slurry as a sustainable, green energy source. Anaerobic digestion will not only produce biogas, but also nutrient-rich effluent which can still be used as fertiliser. Prof Jansen highlighted how nutrient-rich effluents from anaerobic digesters, or effluents resulting from slurry filtration systems, or diluted waste streams such as yard washings can also be utilised to grow the aquatic plant duckweed (Lemna sp). These plants grow very fast, thus cleaning wastewater, while generating a high protein-biomass that can be used as a feedstock on the farm, closing the nutrient cycle, and generating value from waste. Biological conversion of slurry can be an important factor in increasing the efficiency of nutrient retention, while generating novel products. Thus, far from being dirty and smelly material, new developments are focussed on getting increased value out of slurry, as a fertiliser, but also as an energy source and feedstock. From "waste to gold" is a long shot, however the change from "waste to an increasingly valuable resource" is just around the corner.