Updates and Events
Updates and Events
Launch of Autism&Uni Toolkit in UCC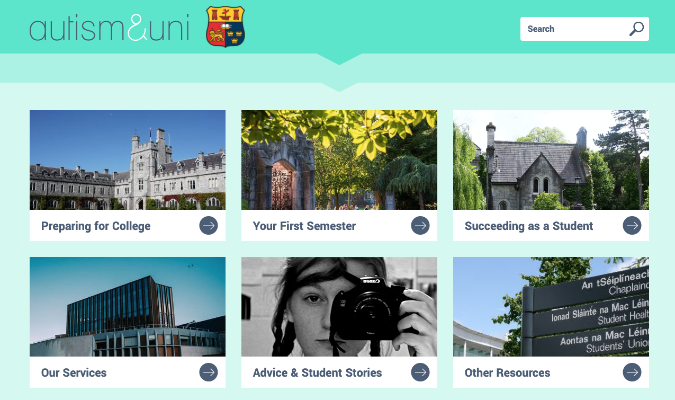 "This is honestly BRILLIANT! It's going to make such a difference to students starting in UCC. It's going to make so many people's lives easier and reduce their nerves/anxiety."
(Feedback from student reviewer of the UCC version of the Autism&Uni toolkit)
This toolkit is a remarkable addition to the supports offered to students – topics are clear and well-defined. There is information and advice that will benefit students, from adapting to life in UCC as a first year to moving on to employment after graduating. Although is designed for students with autism, we at the Students' Union feel it will be beneficial to all students and will be promoting this excellent resource to all!"
Naoise Crowley, SU President
The newly launched Autism&Uni Toolkit – an online resource for autistic students in UCC which supports them to navigate the university environment – has received ringing endorsement from students.
The toolkit (developed by researchers on the Autism&Uni Project) was adapted as part of the UCC Autism Friendly University Initiative, which is funded by the Student Charges and Fees Forum and supported by the Disability Support Service and the Students' Union.
The Toolkit is laid out in a logical way offering UCC-specific information and practical advice for the student journey, from thinking about college to how to plan for further study or entering the workforce.
The toolkit was orginally developed in consultation with autistic students, and the UCC version has been adapted with content from both UCC students and staff. The toolkit is a dynamic resource which can be revised and updated as needed. Suggestions for content are welcomed!
Feedback from students who trialled the Toolkit has been extremely positive and indicates that it will be of benefit to all students, not just those who are on the autism spectrum.