News
News
Jacqueline Lyons, PhD represents UCC Academy at COP27 in Egypt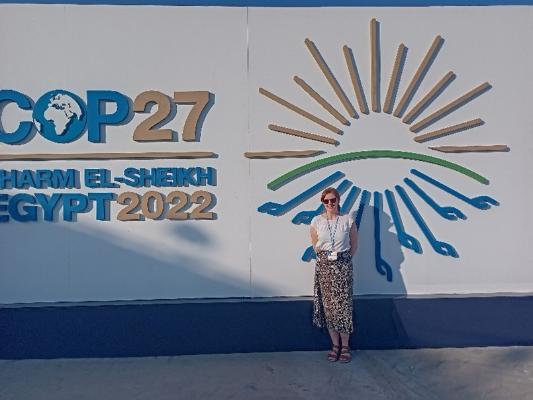 UCC Academy Project Manager attended the UN Climate Change Summit (COP27) at Sharm-el-Sheikh, Egypt, in November on behalf of the Smart Protein Project.
It was a privilege to attend the UN Climate Change Summit (COP27) at Sharm-el-Sheikh, Egypt, last month on behalf of the Smart Protein project, on which I am Project Manager.
COP is a unique conference where people from vastly different countries and backgrounds come together to discuss the countless aspects of climate change, from local and global perspectives. It's not all high-level negotiations - although these are the most anticipated outcomes from the meeting - it's also a platform for entrepreneurs, activists, academics and policy makers to try progress climate change solutions. There is great energy at COP and discussions take place everywhere - the shuttle bus to and from the venue was alive with people swapping contact details and recommending sessions to attend.
It was a big week for me, full of new experiences and insights. The highlights included:
Co-hosting a pavilion session on behalf of Smart Protein where we discussed the challenges currently facing EU food systems and how alternative proteins could be used to help mitigate against these, proposing the specific policy actions required.
Meeting an Taoiseach, MÍcheál Martin, where I had the opportunity to introduce the Smart Protein project and discuss how Ireland could be growing more pulses.
Listening to Mary Robinson speak about climate justice in her capacity as Chair of the Elders. Her panel included a farmer from Uganda who clearly described the deadly impact of climate change in her world, and a mother from a low-lying (2m above sea level) Pacific Island who explained how her children would ultimately not get to live on the land her family has inhabited for generations.
Having the opportunity to engage with written and broadcast media in Ireland connected with my attendance at COP27. I spoke with Newstalk about my role at the conference and wrote five things to know about plant-based diets for RTE.
Experiencing the Sinai landscape for the first time. I took the opportunity to watch the beautiful Egyptian sunrise and swim in the Red Sea with its coral reefs and colourful fish. I was struck by the blue of the sea and sky against the red of the desert mountains – a change from the grey skies and green fields I am used to!