News & Events
News & Events
UCC scholarship recognised as academics elected to Royal Irish Academy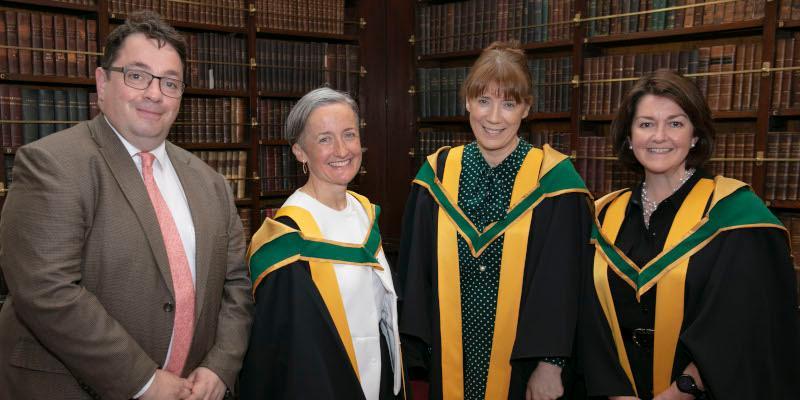 Sincere congratulations to Professor Kearney who was one of three UCC professors recently elected to the Royal Irish Academy.
The UCC professors newly elected to the RIA were Professor Patricia Kearney, Professor Geraldine Boylan and Professor Mairead Kiely.
Patricia Kearney is professor of Epidemiology in the School of Public Health, University College Cork. She is an internationally recognised Epidemiologist and Clinical Trialist, with an outstanding record in Population Health and Health Services Research and its effective translation for improved health. Her Health Research Board Research Leader research includes an evaluation of the national clinical programme in diabetes and modelling of the population burden of diabetes.
Geraldine Boylan is professor of Neonatal Physiology, University College Cork and director of INFANT, the Irish Centre for Maternal and Child Health Research. She is a leading figure internationally in Newborn Neurophysiology and has championed the use of signal processing and Artificial Intelligence for the identification of infants at risk of brain injury. Her research innovations have now been translated to the patient bedside, benefitting newborns worldwide.
Mairead Kiely is professor in Human Nutrition at University College Cork. She is an international leader in the field of micronutrient research, in particular Vitamin D and its impact on health and child development. Professor Kiely is an expert in nutritional risk assessment and contributes to several international advisory groups in public health nutrition.
Commenting Professor John Cryan, Vice-President for Research and Innovation at UCC stated, "It was wonderful to see UCC scholarship recognised in what is the highest academic honour in Ireland. I'd like to congratulate the inductees, they are fantastic role models and trailblazers in their respective research fields."