PsychSlam Sponsors
PsychSlam Sponsors
PsychSlam is partnered with FameLab Ireland
LERO (2022 - Ongoing)

In 2022, the PsychSlam Team were thrilled to announce a partnership with LERO, a Science Foundation Ireland Research Centre for Software.
LERO brings together expert software teams from universities and institutes of technology across Ireland in a co-ordinated centre of research excellence with a strong industry focus.
Lero's research spans a wide range of subjects including software engineering, information systems and human-computer interaction in areas such as driverless cars, artificial intelligence, cybersecurity, fintech, govtech, smart communities, agtech and healthtech.
Education and public engagement are very important to LERO, and part of their mission is to promote the awareness and engagement of the Irish public with science, technology, engineering and maths (STEM).
Members of the PsychSlam Team are affiliated with LERO to carry out research in the area of Human-Computer Interaction, user-friendly and responsible engineering.
Find out more about LERO on their website.
FameLab (2017 - 2021)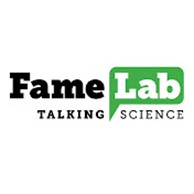 In 2017 we were honoured to announce that FameLab would partner with UCC PsychSlam to showcase science communication by Transition Year students across Munster - a partnership that continued until 2021.
Famelab is the biggest science communication competition in the world, led by the British Council, with more than 5000 young scientists and engineers participating in over 25 different countries. FameLab inspires, motivates, and develops scientists and engineers to engage with people outside of their area of expertise.
Over time, the partnership grew, in part, from the remarkable success SoAP, and UCC researchers have had in the annual FameLab Ireland competition, with their performances showcasing the fun, intrigue and wonder of science, and their performance can be viewed here. Many Famelab alumni have presented their winning talks at PsychSlam including Simon Spichak, Ashley Bennison and others. FameLab Ireland talks can be viewed at https://www.youtube.com/c/FameLabIreland.
More information about FameLab can be found on the British Council website.