News
News
Dementia & Neurodegeneration Network Ireland & Cork Neuroscience Centre have organised a meeting on funding for Irish Research for Degenerative Diseases of the Brain.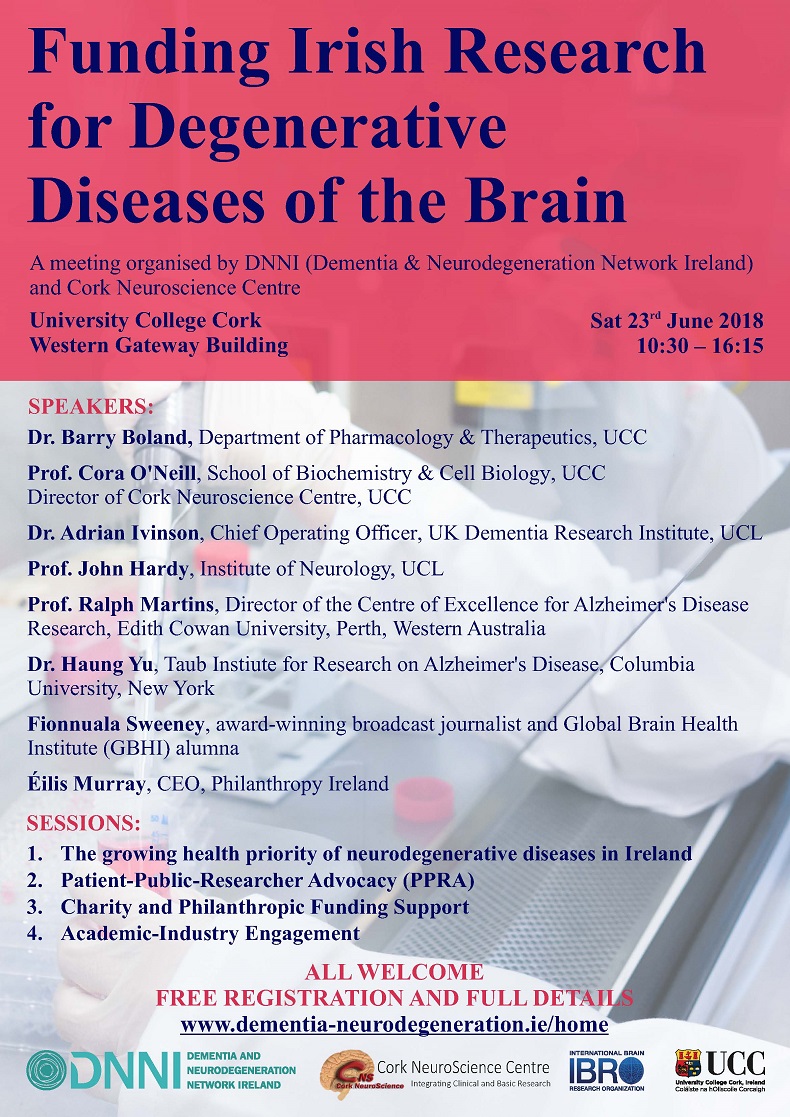 A meeting will take place in UCC on Sat 23rd June (10.30-4.15pm) to discuss research funding for degenerative diseases of the brain in Ireland. This meeting is organised by Dementia & Neurodegenerative Network Ireland and Cork Neuroscience Centre and part hosted by the Deparment of Pharmacology & Therapeutics, UCC.
Neurodegenerative diseases are chronic, debilitating and largely untreatable conditions that are strongly linked with ageing. There is an estimated 55,000 people living with dementia and an estimated 9,000 people living with Parkinson's didease in Ireland. Neurodegenerative diseases place huge costs on society - both emotional and economic, and these costs represent the fastest growing burdens on healthcare systems in developed countries. For Alzheimer's Disease alone, the total direct and informal care costs are presently estimated at €2 billion per annum in Ireland. The total health & social care costs for dementia exceed stroke, cancer and heart disease combined, making it Ireland's most expensive disease. Despite this, funding for research in dementia and neurodegeneration has been disproportionately low when compared with the burden of disease. Only 2% of the national research budget has been allocated to neurodegenerative disease research, despite the significant societal burden of these diseases.
In order to address the large funding gap, a meeting is being organised by DNNI (Dementia and Neurodegeneration Network Ireland) and Cork Neuroscience Centre, bringing together key stakeholders to discuss this issue. Funding for the meeting has been generously provided by IBRO (International Brain Research Organisation). We want to discuss how we can increase funding in this important research area and the day will explore the following themes:
Session 2: Patient-Public-Researcher Advocacy (PPRA)
Session 3: Charity and Philanthropic Funding Support
Session 4: Academic-Industry Engagement
Tickets are free and can be booked through Eventbrite:
https://www.eventbrite.ie/e/funding-irish-research-for-degenerative-diseases-of-the-brain-tickets-45939409009
For more on this story contact:
Mary O'Donovan - Department Pharmacology & Therapeutics T: 021 420 5947