2017 Press Releases
2017 Press Releases
UCC unveils most ambitious strategic plan in its history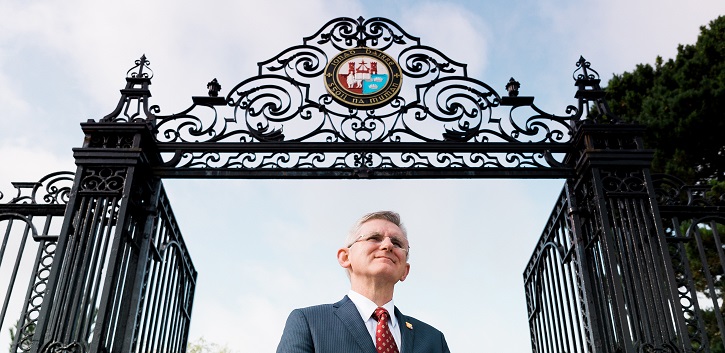 University College Cork (UCC) has unveiled its €350 million investment plan which will create more than 500 new construction jobs in Cork over the next five years.
Announcing his strategic plan this morning UCC President, Professor Patrick O'Shea, outlined the development goals for UCC which include major capital projects and significant targets in the areas of philanthropy and student recruitment, national and international.
The main pillars of the plan include:
Curriculum development - implement an academic strategy to deliver an outstanding, student-centred teaching and learning experience with a renewed, responsive and research led curriculum at its core
Student numbers – increase student numbers by 2,000, from 21,000 to 23,000
Increase the number of international students from 3,300 to 4,400
Expand campus space by 20%
Extend the income earned from philanthropy by €100 million
The strategic plan 2017 - 2022 includes a number of academic targets including:
Achieve 26% of the student intake through access admissions routes
Achieve a 92% retention rate of 1st and 2nd year students
Sustain annual research income at over €90m
Support 100 graduate-led companies through the UCC Ignite Programme in addition to 20 investment-ready high-potential spin-out companies;
Underpin 125 commercial ventures assisted through Blackstone Launchpad.
Good news for Cork with A €350m investment planned for @UCC as Strategic Plan announced. https://t.co/YJYsy6T2Lq #cork

— Cork Chamber (@CorkChamber) September 26, 2017
UCC President, Professor Patrick O'Shea said:
"We are committed to ensuring that UCC becomes the location of choice for Irish and international students. Like myself, many of us are first-generation university graduates, and we are passionate about ensuring access to higher education."
@UCC's ambitious Strategic Plan 2017-2022 is being launched this morning. pic.twitter.com/NPaiOrPS2W

— AM O'Sullivan PR (@amosullivanpr) September 26, 2017
Amongst the key construction projects scheduled to progress within the plan's time frame are: construction of new buildings for the Clinical Medical School, the Dental School, Cork University Business School, and a Creative Hub. The wide-ranging programme will also see construction of improved facilities for the School of Law and the UCC library, as well as an upgrade of existing facilities to state-of-the-art standards, including the Kane Science Building and the Health Innovation Hub Ireland building at the Cork Science and Innovation Park. The plan also incorporates the construction of a modern Student Hub, new student accommodation (which will be created in addition to what is being built by private developers) and development of a world-class outdoor sports facility.
Cork's grand vision: UCC reveals €350m strategic investment plan https://t.co/WFnSAsbOgO via @siliconrepublic

— John Fintan Kennedy (@MrJohnFKennedy) September 26, 2017
Finance for the strategic plan is through a European Investment Bank €100 million loan agreement, commercial loans, philanthropy and UCC's own resources supporting the college's overall €350 million development programme.
The main areas of investment encompass:
€110m for the Cork University Business School
€64m supporting Student Accommodation projects
€37m to build a new Cork University Dental School, Research Centre & Hospital
€27m to fund Western Campus Development, including phase 1 of the Cork Science & Innovation Park & Outdoor Sports Facilities
Over €90m expenditure for a new Student Hub, ICT Services, facilities upgrade, building extensions as well as flood remedial works and Western Gateway infrastructure
€23m to fund a new Clinical Medical School for the Cork Hospitals and associated research and health innovation activity and €10m investment across University Hospital Waterford, University Hospital Kerry and South Tipperary General Hospital.
Launch of @UCC strategic plan - independent thinking: shared ambition by @osheaucc - and accompanying video pic.twitter.com/rU3aezkfUI

— John O'Halloran (@johbees) September 26, 2017
Talking about the impact this would have on the Cork and wider region, UCC President Professor O'Shea said:
"Our creative spirit will enable our University to be entrepreneurial in creating more value than we consume for the moral, cultural and economic health of our people. We are a University in the community, of the community and for the community, committed to delivering value in a trustworthy and transparent fashion.
If we were to ask what our people wanted from life in Finbarr's time it would simply have been to be healed and housed, fed and fuelled while living in a just society, where they were safe and free. Today, these aspirations are both local and global, and it is our duty to enable the realisation of these aspirations for humanity, now and into the future."
@osheaucc "we are a university in the community, of the community & for the community" speaking at the launch of @UCC's Strategic Plan. pic.twitter.com/P6xieOw0H8

— AM O'Sullivan PR (@amosullivanpr) September 26, 2017
UCC plans €350m investment to increase campus space by 20% https://t.co/Np27V7nzWP via @IrishTimesBiz

— Brendan Redmond (@brendanredmond) September 26, 2017
About UCC
UCC is in the top 2% of universities worldwide
In 2016, UCC secured research funding of over €96m
UCC was first for research income from industry sources in Ireland according to Knowledge Transfer Ireland survey UCC graduated 31,000 students from 2012-2016
UCC was the 1st Green campus in the world, awarded in 2010
In 2017, over 94% of UCC's graduates were in employment or further study
21,000 students in UCC: In 2016, UCC had 15,000 undergraduates, 4,400 postgraduates and 2,800 adults in continuing education across undergraduate and postgraduate programmes and short courses
UCC was awarded the 'Sunday Times Irish University of the Year' two years in a row (2016-2018), the only Irish university to have received such an accolade
For more on this story contact:
Ruth Mc Donnell, Head of Media and PR, Office of Marketing and Communications, UCC. Mob: 086-0468950