2015 Press Releases
2015 Press Releases
RTÉ to screen George Boole documentary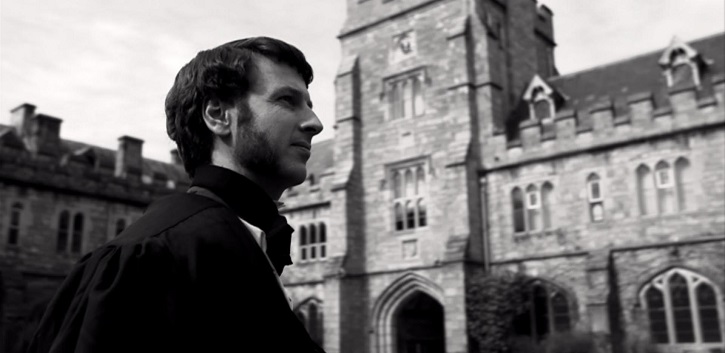 The huge impact of George Boole's work on technology today is explored in a stunning new film commissioned by University College Cork, to be screened on RTÉ One on September 1 at 22:35.
Narrated by Oscar-winning actor Jeremy Irons and produced by multi award-winning Oxford Film and Television, The Genius of George Boole assembles academics and industry leaders from across the globe to explore the life and importance of one of the world's greatest unsung heroes.
The 58-minute film shines new light on the legacy of George Boole, recognised as the forefather of the information age.
World-renowned film producer and Ireland's digital champion, Lord David Puttnam, sets the scene for the film by posing the question: "Is George Boole important?" Puttnam continues: "I guess, no George Boole, no Google, no Amazon, no Intel…that makes him pretty important," emphasising to viewers this unknown mathematician is indeed a key figure in our global age.
Elementary! Prof Des McHale believes George Boole was the inspiration behind Sherlock Holmes nemesis, Prof Moriarty pic.twitter.com/rzsxl0zsDI

— Irish Mail on Sunday (@IrishMailSunday) August 22, 2015
Sitting in his office at Google, Professor Geoffrey Hinton, the world's leading expert on Artificial Intelligence and Boole's great-great-grandson, comments: "Anyone who knows how computers work knows about Boolean logic …that's right down there at the basis of modern computing."
Film shines new light on Boole as forefather of information age http://t.co/ATZOfVlXav pic.twitter.com/CnofuuAxjD

— The Irish Times (@IrishTimes) August 17, 2015
According to Intel vice president Rory McInerney: "At the core of the computer chip is essentially a switch, an on/off switch; in today's chip this is on a silicon chip so you have a transistor." As the film shows, the grand designer of this elegantly simple yet radical idea is George Boole.
"Boolean Logic is at the heart of how we design all microprocessors. It is an elegant and simple mathematical language that enables us to products with more transistors than people on this planet. It shows no sign of losing it's relevance and will be with us until a fundamentally new computing paradigm is invented," McInerney comments.
'The Genius of George Boole' - the forefather of the information age @RTEOne, September 1 at 22:35 @UCC http://t.co/ZuzHCA9kmu

— Film Ireland (@FilmIreland) August 12, 2015
Another contributor, Boole's biographer and UCC's Emeritus Professor of Mathematics Des MacHale, offers fascinating insights into Boole's life and Mathematics.
Filmed in Ireland, the UK and the US, the documentary investigates Boole's life and motivations, from his humble background as a cobbler's son from Lincoln, England, born in 1815. Boole's genius became apparent from a young age. Without a university education and given his family background, finding a role within the formal structures of British society was challenging for the young Boole.
The film looks back at how and why the newly-founded Queen's College, Cork (now known as UCC) opened in 1849, provided him with a job as its first Professor of Mathematics and, in turn, the financial resources to support his family back in England.
Importantly, the role in Cork gave Boole the freedom to pursue his mathematical research, while coping with witnessing the social inequalities in Cork after the Great Famine.
"The Genius of George Boole set out to throw light on the remarkable achievements of one of the world's unsung heroes. Dealing with the themes of genius and what motivates genius, the film looks at Boole's legacy with special references to how Boole research has been applied in today's world. The film also touches on the historic contexts of Ireland, Cork and UCC as well as England in the early nineteenth century," comments Virginia Teehan, Project Leader, Boole Documentary, UCC.
For the university, this film is important as it emphasises the long-term value of supporting creativity and research, which is what the university is about, Teehan comments.
Jeremy Irons in the Sunday Business Post http://t.co/bDZ39sclFW pic.twitter.com/jbb9NBRPm3

— Jeremy Irons .net (@jeremyironsnet) August 29, 2015
For this week's @sundaybusiness Mag, I meet Oscar-winning actor Jeremy Irons in his west Cork castle home:-) pic.twitter.com/NyuebWfyxU

— Nadine O'Regan (@NadineORegan) August 29, 2015
"Filmed on location in UCC, Tyndall National Institute, St. Michael's Blackrock and in Michael Corcoran's Shoe Maker's Shop in Cobh, the film elegantly evokes snippets of Boole's life and the wider social contexts of his world. The overall purpose of the film is to shine light on one man's work, it is not the definitive story of George Boole; it is simply a beginning," Teehan adds.
The genius of George Boole captured in new RTE documentary http://t.co/0jg8EB6Jxk #GB200 @UCC #STEM

— Engineers Ireland (@EngineerIreland) August 18, 2015
The film asks if Ireland's economic and social circumstances impacted Boole and stimulated him to question universal truths about the human condition and the mind of God. Dr Mark Hocknull, Chancellor, Lincoln Cathedral and Visiting Senior Fellow, University of Lincoln, discusses how Boole deals with these big questions. The theme is further advanced by Intel's Rory McInerney, when he says Boole "was looking at human problems, trying to understand the way people think, what makes them human..."
Nxt @CoderDojo's @liaonet & @UCC's Des McHale on Irish inspiration for Sherlock Holmes' nemesis Moriarty #MornsWithDF pic.twitter.com/h1GRILlWcs

— Morns w/ DaveFanning (@MornsWithDFRTE) August 25, 2015
The Genius of George Boole, RTÉ One, September 1, 22:35.
http://georgeboole.com/film