2015 Press Releases
2015 Press Releases
R&G to benefit charities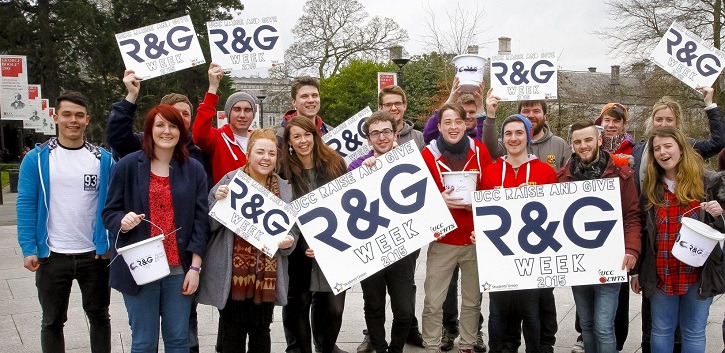 As Raise & Give Week beings, the UCCSU and wider student body are aiming to make 2015 a record year for monies raised for a number of local and national charities.
Commenting on behalf of the UCCSU, Barry Nevin, Communications and Commercial Officer said, "This year for the first time the UCCSU called on charities nationwide to submit applications to become part of Raise & Give Week. We received some 61 hugely compelling applications, eventually whittled down to primarily supporting Pieta House and Cork ARC Cancer Support House. We are also supporting some of the charitable groups that have societies here in UCC. Seven UCC Societies got together and put in a joint bid for all of their charities, including Barnardos, Friends of MSF, Hope Foundation, Simon Community, St. Vincent de Paul, Surgeon Noonan and SUAS."
UCC and UCCSU will again be proactively working together to reduce the potential for alcohol-related harm and anti-social activity through UCC's Student Experience Office, the Student Health Department, Student Counselling and Development and other stakeholders, including the Gardaí, local residents' associations and UCC General Services.
UCCSU President Mark Stanton said the week was as much about raising awareness of the charities as raising money, remarking that not only do students raise funds but they also give hours and hours weekly to working/volunteering for charity:
"RAG' or raise and give actually originates from the late 1800s in UK Universities. Students of the day noticed inequalities in society and began to take time out of their studies to 'rag' members of the public to donate items of clothing to the poor. It developed from there over the years to UCC students raising badly needed funds each year. We're aware that an event of this nature can impact the local community and as in previous years, we have taken a number of steps along with the Gardaí to make sure everyone has a safe and enjoyable week. There are some great fundraising events happening throughout the week, whilst remembering of course that this is a teaching week and students are still fully expected to attend lectures as usual."
Dr Ian Pickup, Head of Student Experience at UCC comments: "The emphasis placed on fund-raising during Raise & Give Week is demonstration of the high level of active citizenship by UCC students. Large numbers of our students are involved in volunteering work throughout the year, so this week is a welcome chance to celebrate this on-going contribution. We also have a strong commitment to supporting health and wellbeing in a variety of ways and I am delighted that this year's Student Union leadership is continuing to further support this approach through a strong partnership working with the University, local residents and the Gardaí."
A student-led initiative backed by UCC and the Student Community Support (SCS) is one of the more visible initiatives during Raise & Give Week. In operation since 2009, the student-led SCS, backed by UCC and the Gardaí, has successfully worked to improve the safety of students, local residents and members of the public and reduce anti-social behaviour at key times of the year.
Other initiatives include the year-round implementation of a comprehensive action plan on alcohol as part of the UCC Health Matters initiative, which won outright at the Irish Healthcare Awards (IHA) in 2013 for its actions to reduce alcohol-related harm among students. The plan has 20 specific action points and five key strategy areas, for example (action plan and winning entry can be viewed here):
Education, information and training for students and staff: Alcohol information sessions provided to all incoming 1st years at orientation and promotion of ePUB UCC, an online alcohol educational and behavioural change tool which more than 15,000 UCC students have now completed; the training of peer support leaders; the provision of workshops and training to frontline staff on alcohol information and brief intervention
Screening, referral and treatment services: Provision of screening and brief intervention therapy to UCC staff towards identifying students at high risk of alcohol related harm earlier
Making the campus and local environment safer from alcohol related harm: Zero-tolerance policy on anti-social behaviour through Campus Watch, Student Community Support and local Gardaí; on-going promotion of the UCC Student Alcohol Policy and the UCC Student Rules
Influence local, regional, national and sectoral alcohol policies and practises: Twice yearly (at least) meeting of a local discussion forum including students, residents and local Gardaí to help reduce alcohol-related harm and anti-social behaviour; extensive lobbying undertaken around the marketing and selling of alcohol; encouraging a sectoral approach to alcohol-related problems annually through the Confederation of Student Services in Ireland (CSSI), the Irish Student Health Association and the Irish Universities Student Services Network
Research alcohol use and monitor progress and effectiveness of strategies: A funded PhD level thesis on alcohol use by UCC researcher Martin Davoren is underway and recently published some findings. This led to widespread national coverage on UCC's efforts as the researchers called for further public policy measures as a matter of urgency.
A UCC alcohol and substance-working group also meets regularly under the UCC Health Matters banner. Other initiatives include:
A CCTV system has now been in place for two years in the campus area and its surrounds. The joint initiative between An Garda Sίochána, Cork City Council and UCC means three CCTV cameras are strategically positioned for broad coverage and monitored by Anglesea Street Garda Station, with the aim of complimenting existing efforts in the area to better ensure the safety and wellbeing of the whole community.
In August 2013, UCC's announcement that it was to give students the choice of alcohol-free campus accommodation under a pilot programme sparked nationwide news coverage. By September 2014, the numbers opting for the scheme had increased, leading UCC Campus Accommodation to expand the scheme further by introducing a dedicated social programme as part of a move towards wellbeing housing. The move attracted international attention this week, with The Scotsman newspaper reporting University of St Andrews in Scotland is to follow suit.
Don't forget the @UCC983FM 24 Hour Radiothon taking place during @UCC RAG Week! @UCCfeels doing the 5-6pm slot! pic.twitter.com/pDJ8eDikjz

— Marc O'Driscoll (@MarcODriscoll_) February 16, 2015
Derek Mooney and @johbees donating money to the #RAGWeekPig today @UCC pic.twitter.com/eeyJqnPHV5

— Mark @ UCCSU (@UCCSUPresident) February 13, 2015