2015 Press Releases
2015 Press Releases
Operation Transformation for UCC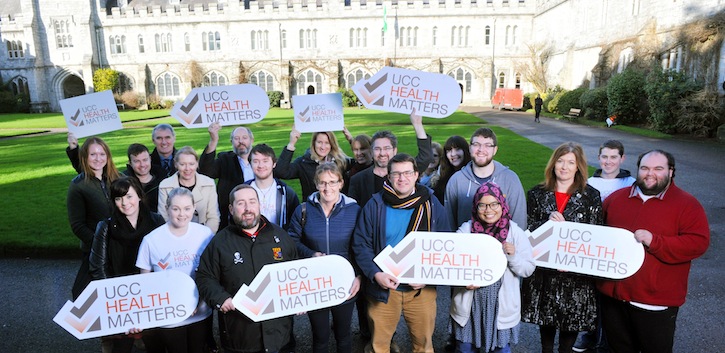 UCC has officially launched its 2015 Operation Transformation initiative. Now in its third year, the programme has gone from strength to strength with 103 applications for the coveted nine leader positions.
UCC Operation Transformation follows a similar format to the RTÉ show but with some additions to cater to the university audience. There are eight heavily contested leader spots, four staff and four students. The applicants make personal statements detailing why they feel the programme could benefit them, often offering up some truly inspirational stories.
Dr Michael Byrne, Head of UCC Student Health comments, "It's probably the single hardest aspect of the whole initiative from the organiser's side. You read over a hundred stories from individuals that just want a little extra help to try and change their lifestyle for the better and have to narrow it down to the few that we feel can benefit most."
Due to the high demand for participation, a wild card 9th leader was chosen this year. A group programme has also been expanded on previous years to allow everyone in the university the opportunity to take part in some way.
9 brave #UCC students/staff have opted for @UCCHealthMatter's Operation Transformation. They need your encouragement. pic.twitter.com/IwBcAsamwa

— UCC Ireland (@UCC) January 16, 2015
These groups, currently consisting of over 120 staff and students, participate in weekly walks, mindfulness and focus workshops, yoga and fitness classes and have their weight tracked on a weekly basis by doctors from the UCC Student Health Centre. There is also a healthy Operation Transformation meal plan available for them to follow within all KSG outlets on campus.
The programme also takes in some large scale events throughout its run that involve the wider UCC community, including a day that offers free blood pressure checks for all staff and student; a plan to build staff up to taking on a 5km walk/run in early March; a mass UCC cycle as well as linking in with UCC Cancer Society's 24hr walk 'Relay For Life' on 27 February.
The leaders remain the focal point of the programme for most of the UCC community as their daily and weekly endeavours are tracked and displayed through social media. Once chosen, they are put through a gruelling seven-week programme. They develop a training plan with a personal trainer, have twice weekly exercise classes, one-to-ones with the doctors on a weekly basis and receive three nutritionally approved meals a day courtesy of KSG. They also receive a one-to-one with a KSG Nutritionist and a bioelectric measure and all of their data is logged on a personal Fitbit provided by the Mardyke Arena.
Michaela Maher, 19 and one of the student leaders says, "I chose to sign up for UCC Operation Transformation to improve my standard of living, eating healthier foods and building a routine of exercise and all round healthiness. While it's early stages yet, there's so much support from people. It's proving to be a bit of a challenge starting off but we'll all get there after the 6 weeks and hopefully continue to maintain a healthy lifestyle."
It is not just the support that is pushing the leaders forward but also the spotlight and expectations of the rest of the university looking on.
Martina O'Reilly, one of the staff leaders explains, "I was genuinely shocked to be chosen in light of the large amount of applicants this year. I have been given an amazing opportunity to transform my life. Everything I could wish for to help me on my journey is laid on - calorie counted meals in UCC's restaurant, gym membership at Mardyke Arena, full medical support and counselling. All of this coupled with the fact that being a leader is so public, the support is incredible and most important of all there is nowhere to hide, you absolutely cannot quit or cheat!"
Martina has been working steadily, achieving and inspiring the staff of UCC. She has shed over half a stone in... http://t.co/aBcgAxeDVt

— UCC Health Matters (@UCCHealthMatter) February 3, 2015
UCC Operation Transformation will be running for seven weeks and is part of the university's action plan to become accredited as Ireland's first Health Promoting University.
Kieran is continuing to be successful in reaching his targets. He is now feeling the benefits of his new... http://t.co/ji5v7Kgpox

— UCC Health Matters (@UCCHealthMatter) February 3, 2015
It is a collaborative event run in conjunction with UCC Health Matters, KSG, The Mardyke Arena, UCC Áras na Mac Léinn, UCC Student Health Centre, UCC Marketing & Communications, Staff Wellbeing and UCC Clubs, Societies and Students' Union.
For more information on this or any of UCC's Health Promotion initiatives, you can view the UCC Health Matters Facebook page or download their app for Apple or Android devices.
(This article also appeared in edited format in the Evening Echo on February 3 2015)
The gang from @UCCHealthMatter's #operationtransformation in today's @CorkEveningEcho. Inspirational stuff. pic.twitter.com/UxOGZo7Xbr

— UCC Ireland (@UCC) February 3, 2015