2015 Press Releases
2015 Press Releases
Mobile technology 'first' for UCC's MBA students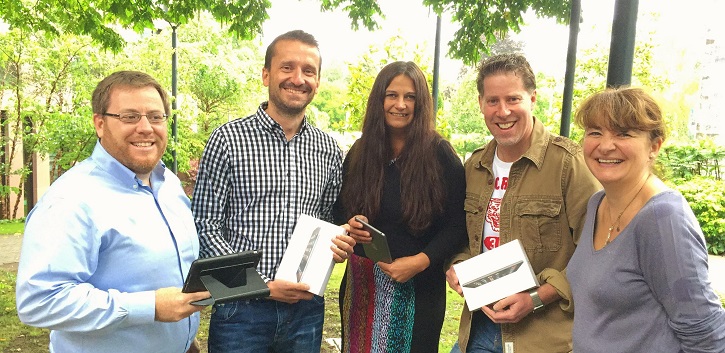 The UCC Executive MBA has become one of the first programmes in Ireland to give each of its students an Apple iPad Mini, to enable team interaction beyond the lecture room.
The class is comprised of working professionals from indigenous and multinational companies, many combining study with busy work schedules and overseas travel.
Dr Joan Buckley, Director, UCC Executive MBA, described the move as "a really exciting development for our students. A core element of our programme is the dynamic of the project group, where students work with each other in teams, replicating the management environment."
"We were looking at ways to improve how teams could interact with each other when away from the university setting. The logical decision was to introduce an appropriate form of mobile technology to the graduate management learning environment."
Students now have access to a huge variety of apps in their day-to-day learning, allowing them to collect and share digital content, and to meet and manage projects virtually, she said.
"Project groups can now meet virtually, share content, have discussions, create mind maps, annotate shared whiteboards and create presentations, all remotely and through their iPads."
On the decision to offer each student an Apple iPad Mini specifically, Dr Buckley explained: "We were looking for something that students could use for capturing data, but that also had a range of apps to help them creatively utilise that data.
"We quickly discovered that the Apple operating system is best suited to our technical needs and that the iPad Mini is best suited to our students' needs because of its accessibility and ease of use."