2015 Press Releases
2015 Press Releases
#MeetUCC: Padraig O'Connor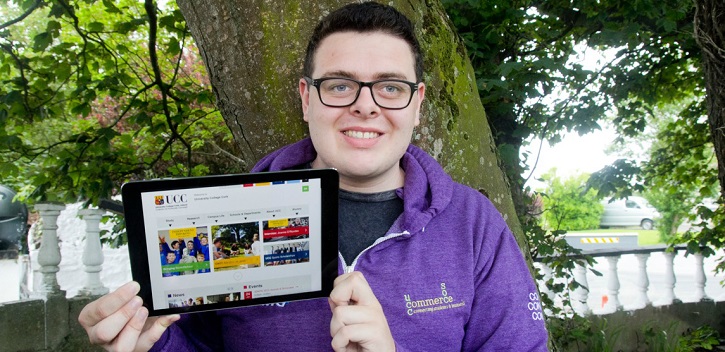 In the first edition of #MeetUCC, Commerce student and award-winning marketer Padraig O'Connor reflects on his UCC experience, the power of social media, the Super Bowl and doing what you love.
#MeetUCC will give you a regular glimpse into the lives of the students, staff, graduates and partners of UCC that make our community so special.

In conversation with: Tom McCarthy, UCC Media & PR Officer
---
Name: Padraig O'Connor
Hometown: Ballyduff, Tralee, Co.Kerry
Current location: Home
Course at UCC: Final-Year Bachelor of Commerce (BComm) student

First/best memory of UCC (so far)?

That's tough because there are so many! I love Freshers' week every year, but my first week at UCC in particular because everything was new to me.
After that, I loved it because it is great coming back to college and seeing everyone that you might not have seen since the previous semester.
UCC, the Students' Union and the Societies always have an excellent line up of events, and there is a great buzz around campus. I am already looking forward to this year's Freshers' Week - I am only sorry it is my last!
Any Clubs/societies you would recommend in UCC?

Of course, I am going to say the Commerce Society, but I guess I'm biased since I'm the Public Relations Officer. It's a brilliant society to get involved with if you have a business interest. You make lots of great contacts in the business world from people in global companies to local ones in Cork and of course you will meet other students that are also interested in business.
The society holds lots of great events throughout the year from educational events, to conferences like the UCC Annual Business Conference and social events like the Commerce Ball.

Favourite spot for a coffee or break in UCC?

The Coffee Dock, of course. They serve Starbucks! If it's a sunny day, it is lovely to enjoy it outside.
Leaving Cert students have until 1 July to change their CAO choices. What advice would you give to them on choosing the right course?
The most important thing is to choose something you are interested in and love doing. I have met so many people in the past three years that have done a course they didn't fully want. They have said, "I didn't think I'd get enough points for the course I wanted, so I didn't put it down."
Forget calling it the CAO, let's call it a wish list. If points didn't come into the equation, what would you put first? Do that for the first few because a lot of people do much better than they think they will. Add a few courses with lower points - ones you are interested in but will definitely achieve - so that you are not left without anything.
The papers list all the required points for each course in Ireland online the night before the offers come out. Put yourself out of your misery. Apparently anyone who waits until the next day doesn't sleep. If you don't get your course, it is not the end of the world - hard work is what gets you places at the end of the day. Best of luck to all the students awaiting results!
Best piece of advice you ever received?

Last year I wasn't sure whether or not to do the year abroad as part of Commerce. Noel Woods, the UCC BComm Director, told me to put my name down even if I had the slightest interest in doing it.
I'm glad he encouraged me to do so! It was a fantastic experience to go abroad and meet people from different cultures, experience a different education system, learn how things are done in another country and when you come home you appreciate Ireland more!
The reason I have been less active on Twitter the past while: http://t.co/zbdYuaF3dF Some @Verizon #advertising made it in! #shotbyiphone6

— Padraig O'Connor (@oconnorpadraig) June 2, 2015
Where have your studies brought you? Have you had a chance to travel?

My studies have brought me to New York. I did the UCC BComm year abroad. I studied at Pace University, which is located in downtown Manhattan, close to Wall Street. It was a fantastic experience! I even got the chance to work in New York at the university itself. It was great from a marketing point of view.
I had the chance to learn about U.S. media, work on marketing activities for American clients and I was even on set for the filming of BMW's Super Bowl commercial.

You recently won the An Post Student Marketing Campaign of the Year (2015), developing a marketing campaign for the Sunday Business Post. Tell us a little more about how you achieved that. Dare we ask, is print dead?

They needed to increase the sale of subscriptions for their new premium digital offering. I created a full marketing campaign for them from strategy to media planning to do just that.


The campaign was aimed at the younger business person and focused on keeping ahead in business, one of the aims being to position the latest business news and industry insights from The Sunday Business Post.
The campaign was based largely on digital marketing, but it also included experiential marketing, a microsite and some traditional advertising like print, radio and direct mail.

Print is not dead, yet. The older generation still like their hard copy of the newspaper, but things are definitely moving more and more towards digital. The traditional marketers have it much easier now since everyone is on digital, print is far less crowded (I'm joking, kind of).
Well done @oconnorpadraig for winning the Smartest Student at the #AnPostSmartMarketing Awards http://t.co/dUHe3qyYRn

— Mail Media Unit (@MailMediaUnit) June 17, 2015
Favourite movie or worst movie?

My best has to be any of the Taken movies, or all of them even! I am not sure that I have a worst. At least I can't think of one in particular but I guess anything sci-fi. I don't have any interest in it at all.

George Boole and his link to UCC - what does he mean to you (if anything!)

Aside from meaning I probably have a lecture to go to (because our lectures are often in the Boole Basement) I think Boole is an inspirational figure to students like myself. Boole excelled in his fields, including mathematics, so much so that we are even still talking about him today! He is definitely someone we all look up to in UCC.

You can only access two social networks for marketing purposes to an audience under 35. Which ones and why?

Of course, it will vary by industry but for most businesses Facebook and Instagram are key. Irish people love Facebook! 60% of the Irish population are on Facebook according to the latest Ipsos MRBI poll, and there are probably more under 35's on Facebook than any other demographic.
Of all social networks, Instagram and Facebook have the most users visiting them daily which means more regular impressions and engagement for your brand. Instagram is less crowded, with not as many businesses on it, but probably not for long. Now that they have started introducing advertising I think more businesses will be interested in using Instagram for their marketing.
Instagram has no edge ranking which means your followers will see your content. Twitter would definitely be in with a shout if it were for a slightly older demographic, but they would be my top two for the under 35's.
What's next for you in terms of studies/work/life?
I am working on marketing for Verizon this summer; they just opened up a new office in Dublin. Then I am going into my final year of Commerce in September. Who knows what life will bring after that.
Did I just get compared to @MadMen_AMC? Thanks @UCC :) http://t.co/RVcefXFW92 #marketing pic.twitter.com/52Ji8I4QVP

— Padraig O'Connor (@oconnorpadraig) May 11, 2015
Where can we learn more about you?
I have a website and marketing blog on www.padraigoconnor.ie I am also on LinkedIn, Twitter (@oconnorpadraig) and you might spot me around campus!