2015 Press Releases
2015 Press Releases
Dress for Success Cork celebrates 2nd birthday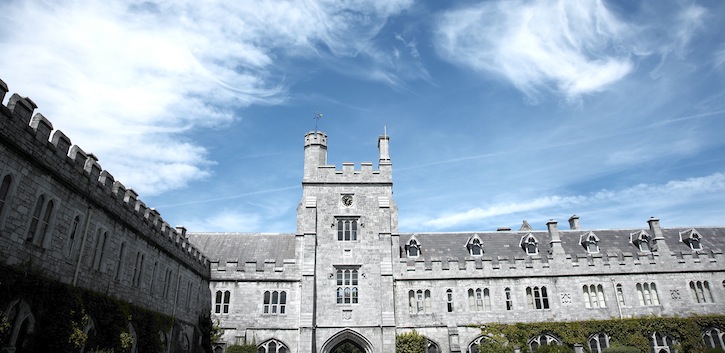 This week Dress for Success (DFS) Cork celebrates two years of breaking the cycle of poverty through supporting women into the workplace. UCC's Dr. Celine McInerney is among the guest speakers.
Such has been the success of DFS Cork - which was founded by Cork businesswoman Carmel O'Keeffe - that CEO of Dress for Success Worldwide, New York, Ms. Joi Gordon and Vice President Ms. Liz Carey are to pay a special visit.
As well as touring the DFS Cork premises at 131 Oliver Plunkett St on Wednesday 23rd September, they will join Carmel in meeting the Lord Mayor of Cork, Cllr. Chris O'Leary at City Hall. This will be followed by a celebration for clients, volunteers and supporters in the Port of Cork Boardroom from 6.30pm-8.30pm, featuring Dr. Celine McInerney, Department of Accounting, Finance and Information Systems at UCC, Alex Whelan, Co-Founder, An Focail Iontachta and Ms. Gordon as guest speakers.
Dr. Celine McInerney, who will deliver a presentation called 'Surviving Career Lows and Finding your Cloak', comments:
I met with Carmel from Dress for Success this summer when I supervised a group of students from UCC's Masters in Corporate Finance programme who helped prepare a business plan for the charity. I was really impressed by what they do. Giving women who are out of work or returning to the workforce the confidence to put their best foot forward is an invaluable service. Working women are empowered, financially independent and research has shown that children of working mothers, even low paid ones, are at much lower risk of poverty. From an economic point of view, working women pay tax and consume more goods and services, providing an economic stimulus. This is a great service and I am very pleased to lend my support to this worthy cause.
Numerous women and families in Cork have been empowered by Dress for Success, which promotes the economic independence of disadvantaged women through providing work appropriate clothes, mentoring and a network of support and career development tools.
DFS Cork over two years
1000 individual appointments
340 individual clients
193 clients secured job interviews
160 clients entered or returned to employment
137 ladies were styled
90 have gone back to education
90 have become volunteers
63 individual sponsors have also come on board in this time, a vital source of support for the non-profit organisation which receives no government funding.
Last week, DFS Cork held a Dressing for Success personalised styling event at Cork International Hotel, supported by Dell, Mahon Point Shopping Centre and a host of other local and national sponsors. €5760 was raised, all of which will go towards keeping this valuable and free service afloat. DFS Cork also opened its door for Culture Night, inviting the public in to see why it is such a useful community resource.
Thanking the many volunteers, sponsors, local businesses and the people of Cork for their continuing generosity, founder of Dress for Success Cork Carmel O'Keeffe comments:
When I applied to bring Dress for Success to Cork in 2012, my vision for all unemployed women in Cork city and county was to become financially independent. I wanted to offer free services and programmes to educate and train these women to become the very best they could. We make a difference to women by helping open new gateways and change their lives. We are about much more than interview clothes. Our programmes furnish our clients with a confidence that they carry forever and the knowledge that they can actively define their lives, the direction they take and what success means to them.
For more information or to volunteer/donate, email cork@dressforsuccess.org or contact Dress for Success Cork on Facebook (https://www.facebook.com/DressForSuccessCork) or Twitter (@DFSCork)
Dress for Success Worldwide is a global not-for-profit organisation that promotes the economic independence of disadvantaged women. Since starting operations in 1997, Dress for Success has expanded to more than 140 cities in 19 countries (including Cork and Dublin in Ireland) and has helped more than 850,000 women work towards self-sufficiency. See more at https://www.dressforsuccess.org/about-us/
1/2 Huge thanks to our supporters & models last nite. Can you believe €5760 was raised for #dfscork?! @DellIreland @TricSmy @No1CorkHotel..

— DressforSuccessCork (@DFSCork) September 18, 2015
2/2 ...@mahonpointsc @StokesAoife @MarieMatDell @mahonpointstyle @VivianBrien @SwampFashion @GalleryKinsale & many more = #legends

— DressforSuccessCork (@DFSCork) September 18, 2015
Thanks @CorkEveningEcho for this & all involved :) We turn 2 this week & welcome @dressforsuccess to #Cork! #birthday pic.twitter.com/8XSu4MHFnX

— DressforSuccessCork (@DFSCork) September 20, 2015