2015 Press Releases
2015 Press Releases
Boole tickles Ó Briain's fancy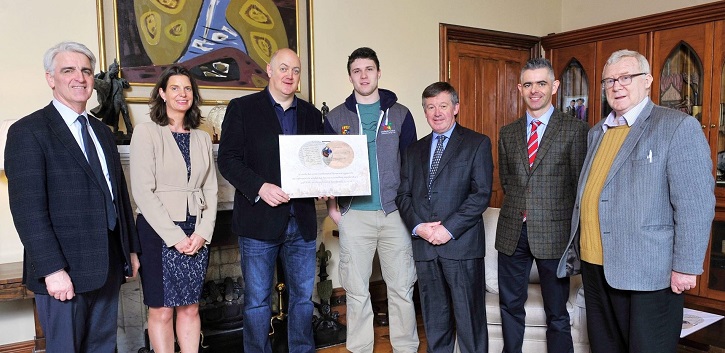 Comedian Dara Ó Briain visited University College Cork (UCC) this week to share in the celebration of the legacy of George Boole.
Ó Briain is currently performing his hit new show 'Crowd Tickler' in the Cork Opera House and accepted an invite from UCC President Dr Michael Murphy to visit UCC whilst in Cork. Beyond reaching millions of people all over the world through humour, Ó Briain has achieved the same feat on behalf of science and mathematics. His unique ability to engage with young people in making the topics interesting and fun has been shown again and again in Dara Ó Briain's Science Club and Dara Ó Briain: School of Hard Sums, amongst others. He studied mathematics and theoretical physics at university.
Comedian Dara Ó Briain visits UCC to pay respect to 'father of digital age' http://t.co/WmhJr3hTr5 pic.twitter.com/Ba4AyTHFeV

— The Irish Times (@IrishTimes) February 8, 2015
Check out our FB page for more pictures of Dara's visit #GB200 https://t.co/0Cz0udO27A pic.twitter.com/jvUedhrCzW

— George Boole 200 (@georgeboole200) February 7, 2015
November 2, 2015 marks the 200th anniversary of the birth of George Boole, the first Professor of Mathematics at UCC whose influence on mathematics, logic and probability is such that he has been called the father of the digital age. In the coming year, UCC will continue to celebrate Boole's bicentenary year with a series of local, national and international events, conferences and exhibitions in conjunction with legacy initiatives such as the establishment of the UCC George Boole Institute. See more at GeorgeBoole.com or @GeorgeBoole200
After signing the UCC Visitors' Book, Ó Briain viewed George Boole's own copy of An Investigation of the Laws of Thought. While a Professor in Cork, Boole wrote The Laws of Thought, which centred on his famous theory of logic and probabilities and has heavily influenced our present day lives as it contains the mathematics for today's computer systems. Ó Briain enjoyed lunch and a discussion with the President and invited guests. He later viewed the Boole Papers, which are held in UCC Library.
Legendary @daraobriain in #UCC @UCCLibrary to share celebration of @georgeboole200 - both done so much for sci/math. pic.twitter.com/AUTR9etPS2

— UCC Ireland (@UCC) February 6, 2015
Looks like @daraobriain enjoyed his trip to @UCC / @georgeboole200 today | http://t.co/8LFs2FOEtf (DOD) #GB200 pic.twitter.com/3hzmxqEy7J

— Irish Examiner (@irishexaminer) February 6, 2015
The co-founder of the world's two largest electronic design automation companies and the former Chief Scientific Adviser for Scotland also visited UCC this week as guest speakers at the George Boole 200 Inaugural Lecturers. Professor Alberto Sangiovanni-Vincentelli, University of California, Berkeley, co-founder of Synopsys and Cadence and Professor Muffy Calder OBE, University of Glasgow, and former Chief Scientific Adviser for Scotland discussed how Boolean thought has influenced our modern world.
A small, nerd bonus to being in Cork: they're celebrating the 200th anniversary of one of our greatest ever Scientists, George Boole...

— Dara Ó Briain (@daraobriain) February 5, 2015
There's a lecture at 6 tonight explaining the importance of his work livestreamed, for links and more info go to @georgeboole200

— Dara Ó Briain (@daraobriain) February 5, 2015
Missed the George Boole 200 Inaugural Lectures?Watch the podcast here: http://t.co/s8RrI0mpm3 #GB200 pic.twitter.com/swd8sf7Bdy

— George Boole 200 (@georgeboole200) February 6, 2015
Full gallery from Dara Ó Briain @georgeboole200 visit now up at https://t.co/LlxcE9ucDf @ireland #GB200 pic.twitter.com/xMx5Nf1TDz

— UCC Ireland (@UCC) February 7, 2015
So proud to call @UCC my Alma Mater. Inspiring and refreshing to see how much Boole has contributed to the world. pic.twitter.com/SkWXITWepM

— Sarah Jameel (SJ) (@sarahjameel) February 5, 2015
Massively engaging evening tonight @georgeboole200 with two terrific speakers @UCC #GB200

— Orla Flynn (@OrlaFlynnCCAD) February 5, 2015
"George Boole has been called the inventor of abstract mathematics and that's huge - practically inventing modern pure mathematics" #GB200

— Class of 2017 (@compsci17) February 5, 2015