2014 Press Releases
2014 Press Releases
Why do we have Christmas trees?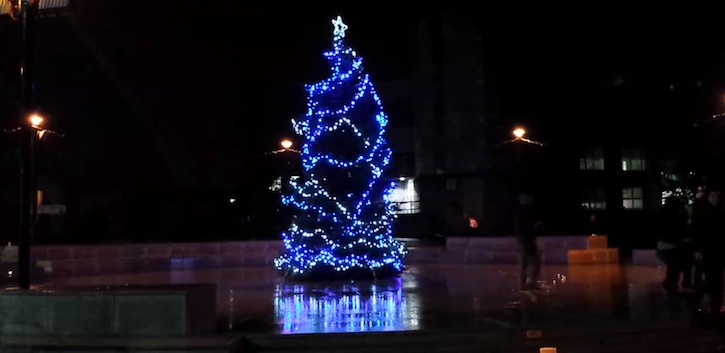 Dr Anna Pilz has the answer – she is currently researching the symbolism of trees in Irish literature (originally appeared in the Irish Independent's 'Science of Christmas' supplement).
Dr Anna Pilz is an IRC Government of Ireland Postdoctoral Fellow in the School of English and she explains below where the tradition came from:
Decorating the Christmas tree is one of the highlights for young and old during the season. The tree is a central symbol of Christmas. Whether erected as centre pieces in city and town squares, along streets, in stores and yards or in private households, the sight of a festive tree is familiar to all readers. But where does that tradition come from?
The tradition of decorating one's home with evergreens is an ancient one. Evergreens in the form of branches of holly and ivy were brought into the home as a symbol of life, hope and strength in the midst of the cold and dark winter season. According to pre-Christian beliefs, holly and ivy also kept evil spirits away and had protective powers. Customs such as potting trees and bringing them in-doors during winter was common pagan practice across the world.
Today's Christmas tree, however, originates from German traditions. Medieval plays, staged during the season and especially on Christmas Eve, often depicted biblical themes in which a 'Paradise Tree' symbolised the Garden of Eden. Decorated with apples, nuts, and candles, these 'paradise trees' became a common feature in people's homes in the 17th and 18th centuries.
By the 19th century, the custom was widely popular and spread across Western Europe. Queen Victoria's German husband, Prince Albert, introduced it in England in the 1840s. Although we do not know who brought the first Christmas trees to Ireland, we can be certain that it became fashionable here in the 1800s. German and Dutch immigrants established the festive tree in the United States.
Christmas trees are trimmed in a variety of fashions, but traditional decorations include tinsel, glass ornaments, toys, fruits like apples and oranges, fairy lanterns, life-like robins ornaments, straw angels and candy. The two main traditional colours are green and red. Green is symbolic of the Christian belief in eternal life; red is a symbol of Christ's blood. The Christmas tree-top is often crowned with a star, representing the star that led the three magi Balthasar, Caspar and Melchior to Bethlehem.
In many Irish homes, the Christmas tree is erected on 8 December, the day of the Feast of the Immaculate Conception. Thus, the Christmas tree is also perceived as the Tree of Life with its candles or lights representing Jesus.
Whereas some people prefer artificial Christmas trees, there is a special atmosphere associated with real trees and the fragrance of conifers. In Ireland, there are three main conifer species of Christmas trees: Noble fir, Lodgepole pine and Norway spruce. In recent years, the Noble fir has become the most popular choice for a Christmas tree due to its dense blue-green needles.
But where do all these Christmas trees come from? Companies such as Coillte run Christmas tree farms and a lot of planning and agricultural knowledge is required - the business of Christmas tree farming is an all-year activity. It benefits the environment by contributing to the sustainability of forest cover and by providing habitats for birds and other animals. They can be easily recycled and are ecologically friendly.
(Reproduced courtesy of The Irish Independent/Katherine Donnelly - originally appeared in the supplement 'Science of Christmas' published 11 December 2014)
No less than 6 UCC staff contribute to today's @Independent_ie @SmartFuturesIE 'The Science of Christmas' supplement pic.twitter.com/zpKM5TWdVC

— UCC Ireland (@UCC) December 11, 2014