2014 Press Releases
2014 Press Releases
UCC recognises efforts of ISS Cleaning staff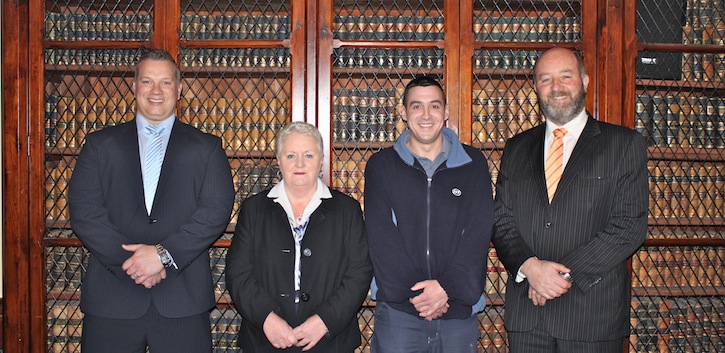 UCC wishes to recognise the outstanding achievements of Steven Blyth, winner of 'Cleaner of the Year' at the ICCA Awards and Marie Grainger, Cleaning Supervisor, who celebrated 44 years of service on the 8 December.
The Irish Contract Cleaning Association (ICCA) awards were held in Dublin recently, a nationwide biannual awards event that showcases the very best in the cleaning industry in respect of operative staff, supervisors, contracts as well as specialist categories. Despite stiff competition from across the country, Steven Blyth, who hails from Ballinhassig in Cork and works with ISS (Integrated Service Solutions), the cleaning contractors for UCC, was awarded 'Cleaner of the Year' in recognition of his work, efforts and energy at the Gateway Campus in UCC.
Stephen, who has worked with ISS for just over one year, commented on his motivation: "I had a son six months ago and ISS were very good to me in terms of paternity leave. So I said I'd try and give it back to them and work as hard as I could. I'm a qualified carpenter but with the building boom gone, I put the head down and got on with it and I take great pride in what I do."
The Gateway Campus was also shortlisted as Building of the Year in the nationwide competition that was presented by popular television personality Martin King (TV3).
Marie, who lives just off Friar's St in Cork City and has dedicated most of her working life to making UCC a better place, with 44 years of service achieved, commented: "I've really enjoyed the role over the years, I love the job. It's amazing how much the university has changed, in particular the different buildings. When I started there was no Boole Library or O'Rahilly Building, no Food Science Building or Student Centre."
Michael McCormack, General Services Officer at UCC, commented: "We wish to thank both Stephen and Marie for their stellar work in ensuring UCC remains a pleasant environment on an on-going basis. The work done by our cleaners too often goes unrecognised and we see this as an opportunity to commend both Stephen and Marie, as well as all their colleagues across the university. They are essential in keeping UCC functioning and despite all the cutbacks the sector has seen in the last five years, they continue to deliver a quality service."
Niall Quinlan, Site Manager with ISS, said: "I take great pride in the contribution ISS make to the operation of UCC. A great relationship exists and we strive to work with the university as part of the team, helping to project a positive image to all users. It is challenging given the cutbacks, however the close relationship means we work together to ensure a quality service is delivered."