2014 Press Releases
2014 Press Releases
UCC postgraduate courses recognised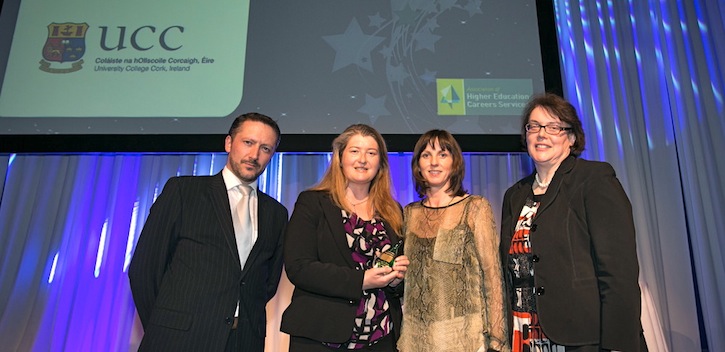 UCC was the big winner at the 2014 Postgraduate Course of the Year Awards, winning two of four awards presented.
The award winners were announced at a ceremony in the Mansion House in Dublin on April 30th that was attended by more than 500 representatives from industry, professional bodies and higher education.
The annual PostgradIreland Awards, which are sponsored by the Higher Education Authority (HEA), recognise excellence amongst Irish postgraduate course providers. The courses were judged on criteria such as graduate employability, reputation, innovation and research record.
The MBS in Information Systems for Business Performance (ISBP) consolidated its position as Ireland's leading IT course by winning IT Postgraduate Course of the Year award for the second year running.
The MBS ISBP course leverages industry partners in teaching, through a weekly seminar series that explores how the power of leading-edge technologies can be harnessed. All students on the course work on a collaborative industry project under the supervision of both an academic specialist and an industry expert. The programme is open to students from any discipline.
The MEngSc in IT for Architecture, Engineering and Construction won best course in the Science and Engineering category. The MSc Corporate Finance was shortlisted in the Business category.
The MEngSc in IT for Architecture, Engineering and Construction allows students to complete the course while working and use their research project to tackle a 'real-world' problem identified by their employer. Students who are not working have the opportunity to complete a work placement as part of the course. The course accepts students from both Engineering and Computer Science backgrounds.
Both courses are partially funded under the graduate skills conversion programme - a joint initiative with the Department of Education and Science and the Higher Education Authority, in response to Information and Communications Technology (ICT) skills needs.
Registrar and Senior Vice-President Paul Giller commended the effort of all staff involved in coordinating and teaching on the shortlisted and award-winning courses.
"UCC's success at the Awards reflects the excellence in teaching, innovative course delivery and close links with industry which ensure that graduates from these UCC postgraduate courses are equipped with the skills to excel in a highly competitive jobs market."
All three UCC courses are currently accepting applications for a September intake so those interested can apply via www.ucc.ie/apply. Further information is available at www.ucc.ie/study
The Association of Higher Education Careers Services (AHECS) Awards were also presented. UCC's Careers Service won out under the 'Engagement' category.
This award acknowledges the substantial engagement between external organisations and the UCC Careers Service and the beneficial impact on undergraduate and graduate recruitment and employability.
The achievement is based on a partnership initiative with Cork Volunteer Centre to facilitate high quality work placement opportunities for UCC students in the not for profit sector.