2014 Press Releases
2014 Press Releases
UCC honours extraordinary alumni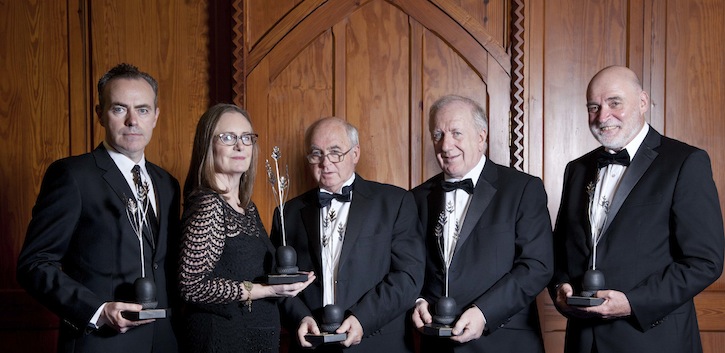 A former head of the trauma department that inspired 'ER', an acclaimed director, a High Court Judge, a renowned Internet historian and a former Secretary General have all been honoured at UCC's Alumni Achievement Awards.
UCC honours medic whose unit inspired 'ER', reports @EoinBearla | http://t.co/rq9DgeQSjP (RMC) pic.twitter.com/9wXQJdLApq

— Irish Examiner (@irishexaminer) November 21, 2014
It must have been surreal for Dr John Barrett, a Cork City native who UCC honoured on Friday 28 November along with four other distinguished alumni, to finish his shift as a surgeon and later watch a version of that same trauma unit on TV.
Having graduated from UCC with a degree in Medicine in 1969 and hailing from Turner's Cross, John is the former Director and Chairman of Trauma at Cook County Hospital, Chicago, Illinois - a public hospital in an area where violence and gunshot wounds are endemic and also the inspiration for hit medical drama 'ER'. Given the impressive scale of his career however, specialising in the surgical management of gunshot wounds, he would likely not have had much time for TV. Dr Barrett was appointed Director of the Trauma Unit in 1982 and under his direction the Unit became a separate Department within the hospital structure in 1995, the first of its kind in the United States. Dr Barrett held the position of Chairman of Trauma at Cook County until his retirement in 2003. He has lectured and taught widely on trauma around the US and overseas and has edited over 100 papers in scientific journals, numerous book chapters and two medical books.
Dr Barrett became a Fellow of the American College of Surgeons in 1981. He has been heavily involved in working to reduce violence in the city of Chicago. A keen walker, since retirement John has hiked the Appalachian Trail covering 2,100 miles and has also completed many pilgrim trails, including most recently the Via Francigena from Canterbury to Rome. He is also a Certified Naturalist.
Guess who UCC is honouring this day week at its Alumni Achievement Awards? via @SouthernStarIRL http://t.co/KBelskCVrw #UCCAlumni

— UCC Ireland (@UCC) November 21, 2014
Cork man John Crowley is also among the recipients, a highly successful theatre, television and film director. John's film and TV work includes Brooklyn (2015) based on Colm Toibin's novel, starring Saoirse Ronan and Domhnall Gleeson, Closed Circuit (2013), Is Anybody There? (2009), the four times BAFTA-Award winning Boy A (2007) and Intermission (2003) which won five IFTA awards including Best Director and the Douglas Hickox Award at the British Independent Film Awards.
Originally from Douglas in Cork City and brother of theatre production designer Bob Crowley, John studied English and Philosophy at UCC and went on to complete an MA in Philosophy in 1992 - all the time, acting and directing his own plays in the UCC Dramatic Society, where he honed his skills.
John was directing plays in London's West end by 1996 and eventually became an Associate Director at the Donmar Warehouse. He has staged numerous productions for the Royal National Theatre, the Royal Shakespeare Company and is currently adapting Chekhov's play for Sydney Theatre Company that will star Cate Blanchett. He was nominated for a Tony Award in 2003 and 2005 for directing Martin McDonagh's play The Pillowman in London and on Broadway.
The third recipient is Mayo-man John Naughton, who has written extensively on technology and its role in society and is a historian of the Internet. His book 'A Brief History of the Future: The origins of the Internet', has become a staple of university reading lists across the globe. He is a prominent media commentator and graduated from UCC with a degree in Engineering in 1968.
John is Vice President, Wolfson College Cambridge and Senior Research Fellow at the Centre for Research in the Arts Social Sciences and Humanities at Cambridge, where he is Principal Investigator on a five-year research project on Conspiracy and Democracy funded by the Leverhulme Trust. John is also Emeritus Professor of the Public Understanding of Technology at the Open University and has been an Adjunct Professor at UCC since 2011.
Among the alumni we honour tonight is Professor John Naughton @jjn1 - more over at http://t.co/wapDTWfXdx #UCCAlumni pic.twitter.com/VYGJ3PJZlv

— UCC Ireland (@UCC) November 28, 2014
John joined the Open University as a lecturer in Systems in 1972 and pioneered the use of computers and the Internet in teaching and learning throughout the 1980s and the 1990s. He developed a strong interest in the social impacts of networking technology and was appointed Professor of the Public Understanding of Technology at the Open University in 2002. His most recent book is titled 'From Gutenberg to Zuckerberg: What you really need to know about the Internet'.
Justice Marie Baker to be recognised at #UCCAlumni Achievement Awards - http://t.co/wapDTWfXdx @LawUCC @UCCLawSociety pic.twitter.com/siovjLPbmw

— UCC Ireland (@UCC) November 28, 2014
The fourth recipient is Justice Marie Baker from Co. Cork, who was appointed Judge of the High Court in January 2014. Prior to this, she was an accomplished barrister for many years. Justice Baker holds a BA (1974), MA (1979) and BCL (1982) degrees, all from UCC. She was called to the Bar in 1984 and to the Inner Bar in 2004. She has practiced in the areas of chancery and land law, commercial, probate and matrimonial law. She was a member of the Government Committee to advise on Pre-nuptial Agreements that reported in 2007. Justice Marie Baker has also been a member of the Law Reform Commission since September 2012.
.@TheCorkNews covers the 2014 Alumni Achievement Awards on Friday November 28 - http://t.co/SAWfVE5ZM2 https://t.co/9HsIWmS0MI #uccalumni

— UCC Ireland (@UCC) November 21, 2014
Cork man Brendan Tuohy is to receive the Alumnus Award for Voluntary Service to UCC. He graduated from UCC with a degree in Civil Engineering in 1977. Mr Tuohy is Former Secretary General of the Department of Communications, Energy and Natural Resources (2002-2007).
Originally from Montenotte in Cork City, he is currently non-executive director on a number of boards of companies. He is also a Chairman of the UN-established body, the Global eSchools and Communities Initiative, the National Maritime College of Ireland Advisory Board, the Strategic Marine Alliance for Research and Training, the Irish Longitudinal Study on Ageing and the Spike Island Committee in Cork. He is also an Adjunct Professor in the School of Business, Finance, Government & Information Systems at UCC. Brendan has supported UCC through his incredible network of contacts, both at home and abroad, which he generously shares with students and staff.
Brendan is a passionate about education and has been one of the strongest proponents of the benefits of investing in university education in Ireland that he sees as critical for Ireland's development. Among his many on-going roles in UCC, he has been a member of a number of external advisory boards for Business Information Systems, in the School of Biological Earth and Environmental Sciences (BEES) and in the College of Arts, Celtic Studies & Social Sciences. He also assisted in the establishment of the International Energy Research Centre at UCC/Tyndall and the Capacity Building Centre for the United Nations Environment Programme's Global Monitoring System for Water, based at UCC. He is currently Chairman of Science Foundation Ireland's Marine Renewable Energy Ireland, based at UCC and, when fully operational, this will be the world's largest marine renewable research group.
Each recipient received an 'acorn to mighty oak' sterling silver trophy, designed by Don O'Mahony, an engraver and jeweller in Cork City.
The 2014 UCC Alumni Achievement Awards and Gala Black-Tie Dinner was held on Friday 28 November in the Aula Maxima, UCC. The award is the highest honour UCC can bestow on a graduate. This event was generously sponsored by Henry Ford & Son (Ireland) Ltd., Bank of Ireland (Credit Card Affinity), Boston Scientific, PricewaterhouseCoopers and Architectural & Metal Systems.
For further information please see http://www.ucc.ie/en/alumni/events/awards/
Who heard #UCCAlumni Dr Barrett on #MarianFinucane? Fascinating on gun control & life in 'ER'? http://t.co/7iCHx3Zju5 pic.twitter.com/xvKTC5VHVl

— UCC Ireland (@UCC) December 1, 2014
Thanks @CorkEveningEcho @AudreyEWalsh for covering #uccalumni awards tonight. We snuck @irishmammies in too ;) pic.twitter.com/GgArQAkl9b

— UCC Ireland (@UCC) November 28, 2014
Meet Chicago's real top ER doc... (Spoiler alert: He's from Cork) http://t.co/25fk4rAsQt pic.twitter.com/zEIfARJ5QD

— TheJournal.ie (@thejournal_ie) November 29, 2014