2014 Press Releases
2014 Press Releases
UCC celebrates staff and students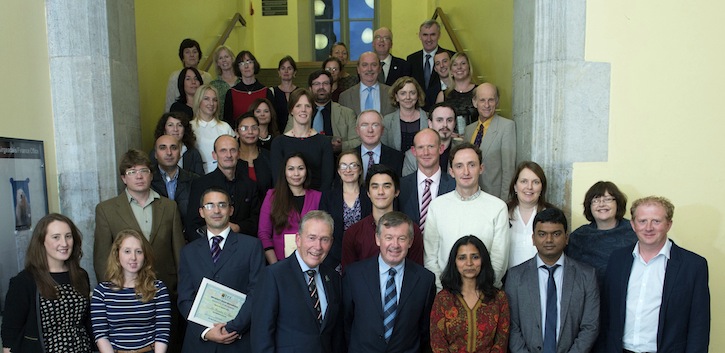 The Aula Maxima received the red carpet treatment on Thursday 9 October, as UCC marked the achievements of staff and students at its annual awards ceremony.
The occasion combined presentations and accolades to winners from three separate award schemes - Staff Recognition; Teaching & Learning and Research - all highlighting the outstanding contributions made to university life by the recipients. It was also an opportunity to honour and remember UCC's esteemed colleague and friend, Mr Frank McGrath.
Affectionately dubbed the #UCCOscars on Twitter, a packed Aula Maxima was bolstered by an online following eager to learn of the results:
Good luck to everyone at tonight's @UCC #UCCOscars #LoveCork

— Steve Cox, CCB (@CorkNeedsYou) October 9, 2014
Not long until #UCCOscars (Staff Awards) - don't miss @CorkEveningEcho 2moro for winners! http://t.co/ge36sLEq6d pic.twitter.com/ozw88B3Uni

— UCC Ireland (@UCC) October 9, 2014
The Teaching & Learning Awards, in place since 2004, were the first such awards, not just in UCC but also nationally. In 2014, five staff members received an award for 'Excellence in Teaching' while a further seven staff members and two postgraduate students were presented with an award for 'Research into Innovative Forms of Teaching'.
The Staff Recognition Awards were initiated in 2009, providing a formal process for acknowledging outstanding achievements of staff and for publicly recognising such achievements to the university and the wider community. Twelve awards were made across the categories of 'Impact', 'Leadership', 'Exceptional Citizen' and 'Enhancing the Student Experience'. This year sees the introduction of a new award - 'The Frank McGrath Perpetual Award for Equality and Welfare'. The award will be presented annually to a staff member who has contributed significantly to the equality and welfare of the UCC community.
The Research Awards were successfully introduced in 2012. Highly competitive, these awards are sponsored by Gilead Sciences Ireland UC and this year acknowledges excellence in research activity across five categories: 'Early Stage Researcher of the Year', 'Research Supervisors of the Year', 'Research Support Person of the Year', 'Research Team of the Year' and 'Career Achievement Award'. Thirteen PhD Scholarships were also awarded through the Strategic Research Fund, supporting the stimulation of new research areas whilst also maintaining existing areas of research strength.
The organisers and various committees deciding on the awards also came in for praise for running such a successful event.
Staff Recognition Awards:
The 2014 winners in in each award scheme are as follows:
The Frank McGrath Perpetual Award For Equality & Welfare
Mr Michael Delargey, School of Education
Enhancing the Student Experience Award
Mr Denis MacDonald, Students' Union
Great that @UCCSU nominated DenisMacD. for @ucc @UCCExperience award tonight. True meaning of #PublicService

— UCC Student Health (@UCCstudnthealth) October 9, 2014
Dr Noel Woods, Centre for Policy Studies
Exceptional Citizen Award
Ms Kathy Bunney, Visitors' Centre
Mr Raymond Foley, Finance Office
Leadership Award
Prof Ivan Perry, Dept. of Epidemiology & Public Health
Dr Michael Byrne, Student Health Service
Dr Byrne celebrating with Son Ciarán and daughter Eithne @UCC staff awards pic.twitter.com/RncHIaej3o

— UCC Student Health (@UCCstudnthealth) October 9, 2014
Congrats to @Pharmabiotic 's Sally Cudmore & Pat Casey on their @UCC awards for leadership and research support @scienceirel @AHealthIrl

— APCCork (@Pharmabiotic) October 9, 2014
Ms Kathryn Neville, College of Medicine & Health
Dr Sally Cudmore, Alimentary Pharmabiotic Centre
Impact Award
Mr Thomas McCarthy, Dept. of Media & Public Relations
Dr Colm O'Dwyer, Dept. of Chemistry & Tyndall National Institute
Mr Brendan O'Flynn, Tyndall National Institute
Wow, Tyndall doing great at the #UCCOscars! Impact award -Brendan O'Flynn for leadership impact in industry relevant research

— Julie Dorel (@juliedorel) October 9, 2014
Teaching & Learning Awards:
Awards for Excellence in Teaching 2013/14:
Dr Simone McCaughren (Applied Social Studies) and Dr Aisling Parkes (Law) – joint

award
Congratulations @AislingParkes & @SMcCaughren. On their way to get the hugely deserved president's award in teaching excellence @UCC @LawUCC

— Fiona Donson (@FDonson) October 9, 2014
Dr Karen McCarthy (Occupational Science and Occupational Therapy)
Dr Olive McCarthy (Food Business and Development)
Dr Niall O'Leary (Microbiology and Environmental Research Institute)
Awards for Research into Innovative Forms of Teaching 2014/15:
Dr Susan Crawford (School of Education)
Dr Bettie Higgs and Dr Ruth Ramsay (School of Biological, Earth and Environmental Sciences ((BEES))

staff

) and Mary Catherine Gallagher and Aaron Lim (School of BEES postgraduate student collaborators)
Dr Nora McCarthy (School of Medicine), Nuala Walshe and Sinéad O'Brien (School of Nursing and Midwifery)
Stuart Warner (School of BEES)
Research Awards:
Early Stage Researcher of the Year
Dr Maria McNamara (School of BEES)
Research Supervisor of the Year
Dr Ali Kashan (Department of Epidemiology and Public Health)
Proud of Dr Ali Khashan from .@infantcentre at #UCCOscars this evening Outstanding PhD Supervisor #welldeservedaward

— Maeve O'Connell (@thelovelymaeve) October 9, 2014
Dr Raegan Murphy (School of Applied Psychology)
Research Support Person of the Year
Mr Pat Casey (Alimentary Pharmabiotic Centre)
Research Team of the Year
Professor John Atkins and Dr Parvel Baranov (representing the Recoding Research Team: School of Biochemistry and Cell Biology)
Career Achievement Award
Professor Arpad Szakolczai (Department of Sociology)
2014 UCC Strategic Research Fund (SRF) PhD Scholarships:
Awardee (followed by primary supervisor – department):
Ms Marica Cassarino (Dr Annalisa Setti– Applied Psychology)
Ms Anna Magliacane (Dr Martin Howard – French)
Ms Aoife McGillicuddy (Dr Laura Sahm – Pharmacy)
Ms Nita Mishra (Dr Edward Lahiff – Food Business & Development)
Mr Carlo Guareschi (Professor Graham Parkes – Philosophy)
Mr Eoin O'Callaghan (Dr Lee Jenkins – English)
Ms Laura McKenna (Dr Eibhear Walshe – English)
Ms Long Pham (Dr Aodh Quinlivan– Government)
Mr Dylan O'Donovan (Professor Mary McCaffrey – Biochemistry & Cell Biology)
Ms Rosemary Francis (Dr Tom Carroll – Mathematical Sciences)
Mr David Jones (Dr Tim O'Sullivan– Chemistry)
Mr Dhiman Mallick (Dr Saibal Roy – Tyndall National Institute)
Ms Caroline Hurley (Professor Joseph Eustace – Epidemiology and Public Health)
Great to see so many @ucc College of Medicine and Health staff amongst the recipients at this evening's staff awards ceremony #talent

— Eithne Hunt (@eithnehunt) October 9, 2014
Well done to all recipients at #UCCOscars! @UCC

— Elaine Harrington (@walkerabroad) October 9, 2014
Big Congrats to all the recipients of the Research Awards held last night, well deserved and well done to all @UCCResearch #UCCOscars

— UCC Research (@UCCResearch) October 10, 2014
Huge congrats to all recipients of @UCC staff recognition, T &L and Research Awards. Fab impact and outcomes for the student experience.

— Dr Ian Pickup (@ian_pickup) October 9, 2014
All the photos from last night's #UCCOscars over on FB now http://t.co/w9OBsKRvq7 @Pharmabiotic @LawUCC @UCCSU pic.twitter.com/cwHfMSDA7l

— UCC Ireland (@UCC) October 10, 2014