2014 Press Releases
2014 Press Releases
Talking rubbish but making sense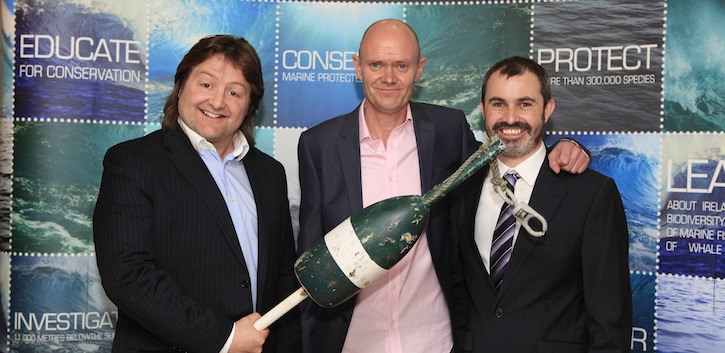 Not a moment was wasted at the National Marine Litter Forum organised by the Coastal & Marine Research Centre (CMRC), with the focus on reducing litter on our beaches and in our seas.
The forum presented the most up-to-date facts about marine litter in an interactive way including a panel discussion, hands-on activities and the premiere of a marine litter animation produced by Cork artist Jane Lee:
The forum was facilitated by Sean Moncrieff of Newstalk and the expert panel included Prof. Richard Thompson of Plymouth University, Mr Jim Armstrong of Plastic Recyclers Europe, Ms Annabel FitzGerald of An Taisce and Patrick Chan of the Environmental Protection Agency. There was a wide range of stakeholders participating in the event, including the ex-international rugby player Shane Byrne of Arklow Waste Disposal.
The event, which was held in the Morrison Hotel in Dublin, has international significance as it is the first of 12 marine litter fora to be held across Europe as part of an FP7 European Funded project called Marlisco (Marine Litter in European Seas: Social Awareness and Co-responsibility). The event was also live streamed to 15 groups across Ireland and Northern Ireland.
Over 20 feasible ideas were captured during groupwork. Suggested actions ranged from a general plastic levy, a plastic bottle deposit refund scheme, positive pester power, clearer product specification, fishing for litter and a ban on plastic microbeads.
The final outcome of the forum will be a written report that will be presented to the national government and the EU Commission. The report will reflect Irish society's opinions around how to combat and reduce the marine litter problem.
Many other stakeholders attended, including trade associations, NGOs, government representatives from national agencies, county council representatives, waste management experts, marine industries and representatives from marine recreational activities, coastal industries and industries that use plastics.
Dr. Tom Doyle of the CMRC, who organised the event, said: "Clearly, there is no quick fix or single solution to this societal challenge but there is certainly willingness in this room and from those participating online to do something about it."
Shane Byrne said: "The National Marine Litter Forum was great fun that delivered a serious message in terms of waste management. Basically, if we do not deal with our waste we will continue to pollute our oceans. For example, lots of litter ends up in our oceans from landfill sites. This litter impacts on the wildlife in many different ways, from entanglement and ingestion. So we need to deal with our waste, we can no longer just bury it!"

Prof. Richard Thompson of University of Plymouth, a world expert in marine litter, said: "Today's event was really significant. It brought together key stakeholders from across the island of Ireland to discuss the issue of marine litter and how we might go about changing the way we do things, especially changing practices or behaviours that result in marine litter."
Ms Annabel FitzGerald of An Taisce (Coastal Programmes Manager) said: "Clean Coasts organise hundreds of beach clean-ups annually mobilising thousands of volunteers, removing considerable quantities of marine litter from Ireland's coast. In 2013 Clean Coasts groups removed almost a half a million pieces of marine litter from the coast of Ireland. We have found that plastic bottle caps tend to be the number one culprit. Plastic bottles, aluminium drinks cans, cigarette butts, food packaging, sweet wrappers and fishing litter such as rope and string as well as sewage related litter such as baby wipes and cotton bud sticks are often in the top ten litter items found on Ireland's beaches."
Satellite groups involved included: Cork Institute of Technology, Cobh Tidy Towns (Cork), Dingle Oceanworld Aquarium, Galway Atlantaquaria, Galway-Mayo Institute of Technology, Green Divers (Dublin), Strandhill Coastcare (Sligo), Conservation Volunteers Galway, Arklow Coastcare (Wicklow), Banna Beach Coastcare (Kerry), Portmarnock Clean Coast (Dublin), Irish Surfers Against Sewage (Donegal), Derrynane Marine Education Centre (Kerry) and joining the forum from Northern Ireland was Department of Environment NI (Belfast) and Foyle Followers in Derry.
Marlisco's overarching goal is to raise public awareness, facilitate dialogue and promote co-responsibility among the different actors towards a joint vision for the sustainable management of marine litter across all European seas. Marlisco activities take place in the four European Regional Seas: North-East Atlantic, Baltic, Mediterranean and Black Sea, by a consortium with members located in 15 coastal countries.
For more on Marlisco, click here or contact Tom (t.doyle@ucc.ie) or Kathrin (k.kopke@ucc.ie) from the Marlisco Ireland team of CMRC/UCC.