2014 Press Releases
2014 Press Releases
SuperValu honours Food Microbiology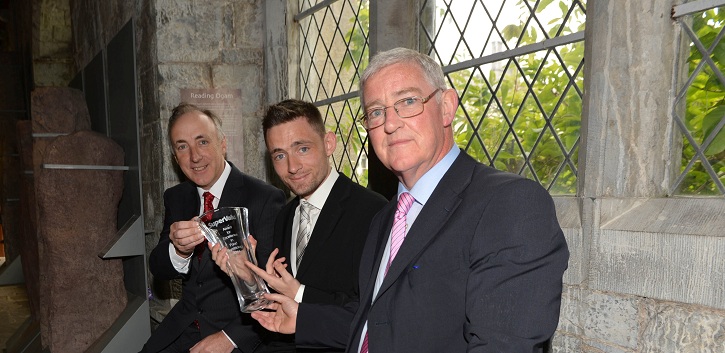 SuperValu has presented the inaugural SuperValu Award for Excellence in Food Microbiology to James O'Shea at a ceremony at University College Cork (UCC).
This collaboration with the School of Microbiology, UCC, is intended to acknowledge the high standard of research being done by UCC scientists across a range of food microbiology areas.
The award was presented to James O'Shea, who is currently completing a Masters in Food Microbiology, for his work investigating the ability of food ingredients to modify the community of bacteria in the human gut, the so-called microbiota. This is of particular relevance to the food industry because of the potential health benefits. Specifically, James is engaged in a study with a view to developing health promoting foods with particular benefits for the elderly. As part of his award, O'Shea will receive a bursary of €2,000 from SuperValu to continue his work in this area.
Ray Bowe, Head of Food Safety & Quality at SuperValu, said, "When we talk about quality, it's about delivering a product that shoppers can really trust and gain benefit from. The provision of quality food to shoppers is critically dependent on high standards in development, manufacturing and supply chain. Research such as that being done by James O'Shea and his colleagues at the School of Microbiology at UCC will allow future SuperValu shoppers continue to not only enjoy the highest quality products, but can also take advantage of innovative new products with proven health benefits."
"This bursary is one element of our on-going investment in quality. For example SuperValu was the first retailer in Ireland to adopt the National DNA Traceback Programme for Bacon and Hurley's SuperValu in Midleton was the first store in the country to secure the Bord Bia Quality Assured Butcher Counter. It is also another reason why SuperValu has gone from strength to strength and is now the leading Irish retail brand in the country."
Professor Gerald Fitzgerald, Head of UCC's School of Microbiology, said, "The School of Microbiology has particular strengths in food microbiology, performing world ranking research in aspects relating to microbial food safety, food quality and preservation and the role of foods in modulating microbiota to promote good health. The development of expertise in this area is fundamental to the future growth of Irish food industry. We are delighted that SuperValu, with their unwavering commitment to food quality and Irish producers, have chosen to collaborate with us on this award."
SuperValu serves over 2.6million customers every week and has 223 stores nationwide. 75% of everything on SuperValu's shelves is sourced or produced in Ireland. SuperValu continues to source locally wherever possible and purchases almost €2 billion worth of goods from Irish suppliers which helps to sustain 30,000 jobs in the Irish economy.
ENDS
About UCC School of Microbiology
The School of Microbiology at UCC has 65 PhD and MSc students engaged in research. One of its most popular postgraduate programmes is the one year taught MSc in Food Microbiology. Students take advanced courses in Microbial Food Safety, Food Fermentation, Food Biotechnology, Functional Foods for Health and Food Hygiene. In addition, they complete a six month research project which is presented as a thesis at the end of the programme.