2014 Press Releases
2014 Press Releases
Students drive enterprise this March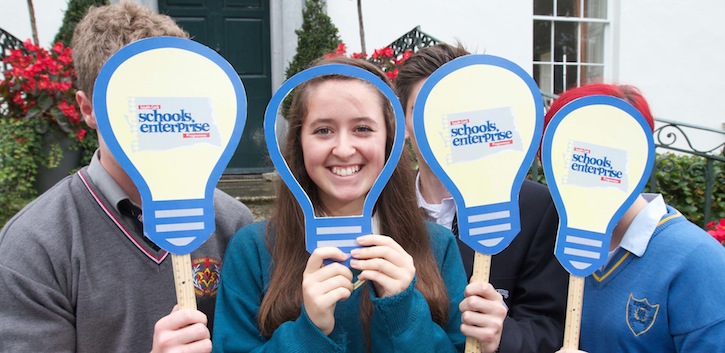 UCC is host to a plethora of enterprise and innovation events during March, starting with the regional finals of the Student Enterprise Awards on Monday 3rd March.
More than 50 mini-companies will compete to become the Cork Schools Enterprise Programme Regional Finalists 2014.
The student enterprises from across Cork will present their mini-company business plans and sell their company vision and strategy to a panel of judges. The overall winners from Cork City and South Cork Enterprise Programmes will each go on to represent their respective enterprise board at the national final in Croke Park in April.
The day-long regional final event at UCC will have a packed schedule aiming to inspire young minds and drive entrepreneurship, culminating in an address to students by world renowned explorer and entrepreneur, Pat Falvey (more information here). Anyone is welcome to attend to watch.
Students will be pitching to the Dragons' Den with a difference on March 6th. The Food Dragons' Den Awards are the culmination of projects in which students from the BSc Food Science and BSc Food Business degree programmes at UCC develop new food products as part of their final-year research projects.
The UCC Entrepreneur of the Year Awards take place on March 20th. The annual event aims to nurture creativity and hone entrepreneurial skills, by encouraging UCC students to express their entrepreneurial flair and develop novel ideas for a new business.
Also taking place on March 13th is an industry open day courtesy of the School of Engineering, featuring guest speakers discussing engineering challenges and innovations, and the showcase of final year projects by Electrical & Electronic, Energy, and Process & Chemical Engineering students. It promises to be an engaging display for interested students, staff and members of the public.
Business Information Systems final year students will also present their end-of-year projects on March 13th.
March 24th is all about innovation through teamwork. UCC, in partnership with Pfizer Ireland, is establishing an annual award to recognise UCC teams that have collaborated to achieve an innovative product, process or solution. The Innovation through Teamwork award is open to teams of any size working collaboratively with industry or public research organisations that have delivered a superior innovation through teamwork (entries for 2014 now closed).
As March 2014 ends, the students at the heart of this enterprise and innovation spree are not done quite yet - the Transition Year Business Project Awards beckon on April 9th. UCC hosts these awards in honour of BNY Mellon sponsored Transition Year Business Projects for secondary schools.