2014 Press Releases
2014 Press Releases
Students bound for Washington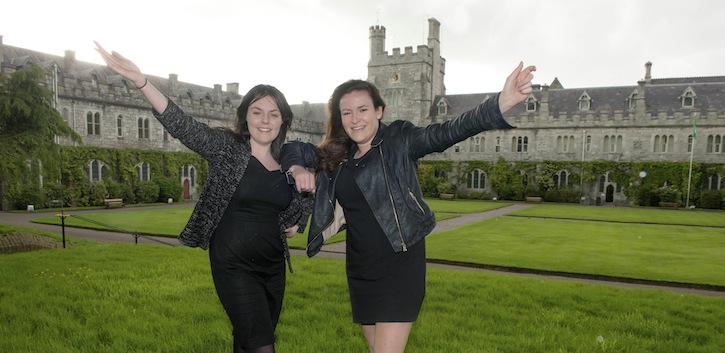 As America prepares for crucial mid-term elections, UCC students Laura Cashman and Ciara Buckley embark on the trip of a lifetime with the Washington-Ireland Programme (WIP).
Laura, a Master's in International Relations student and Ciara, a final year BA International student, will shortly join a class of 30 student participants representing Northern Ireland and Ireland on the prestigious program.
Hillary Clinton is one of a number of influential supporters of the WIP, a cross-community and cross border organisation that identifies promising young people with a commitment to service and a track record of leadership. WIP builds their skills through work experience, educational opportunity and hands on citizenship both at home and in the US.
Laura will be spending her time in DC interning with Congressman Dan Kildee. Laura is one of the founding members and currently chairperson of the UCC Cancer Society, which just last week announced they had raised over €45,000 for the Irish Cancer Society. Laura speaks fluent Irish and has represented Ireland abroad on three occasions with the Imokilly Irish Dancers.
Ciara will be in the Office of Intergovernmental and External Affairs (IEA) in the Department of Health and Human Services. Ciara is a member of UCC uLink Peer Support Programme, aiding the transition of first year students into university life. She co-founded the annual 'Random Acts of Kindness' Peer Support Week. She is also an executive member of Cork based charity 'Students Harness Aid for the Relief of the Elderly'. She was a student ambassador at both the regional and national finals of the European Youth Parliament, and has completed her Erasmus studies in France.
The application process for the WIP Class of 2014 was highly competitive with over four hundred students from across the island and Great Britain competing for the opportunity to take part in the programme. After the completion of the Washington semester, the graduates will go on to become part of the active WIP alumni network that are working to make a positive difference in their communities.
See more at www.wiprogram.org.