2014 Press Releases
2014 Press Releases
Springboard to China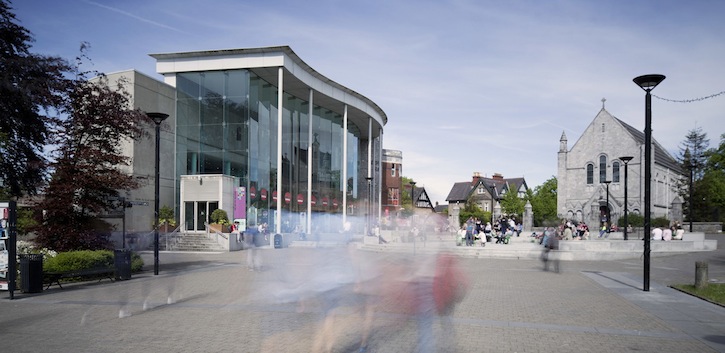 Ahead of a free Springboard Roadshow this Thursday June 19th in the Metropole Hotel, Cork from 10.30am-4.30pm, two UCC students have been awarded scholarships to study in China.
The students, participants on the Springboard programme, will attend the prestigious 2014 Shanghai Summer School in China this July as a result. A team will be on hand at Thursday's Springboard Roadshow to answer questions about the nine courses UCC is offering under the programme, a government scheme for job-seekers.
Kevin Rice from Cork City and Nicola Byrne from Carrick-on-Suir are currently undertaking a Higher Diploma in Chinese Business, Language and Culture at UCC.
UCC's Higher Diploma in Chinese Business, Language and Culture programme aims to introduce participants to the knowledge and competences required to successfully market and negotiate in China and with Chinese businesses across a range of business sectors.
It enables students to develop a range of specific skills such as Chinese language proficiency and culturally mediated negotiation styles to interact effectively in a cross–cultural environment. This programme was delivered by UCC's School of Asian Studies, Ireland's leading centre for Chinese and Asian teaching and research, as part of the government's Springboard scheme in 2013/2014 which offers free places on part-time education courses for jobseekers.
The scholarships have been offered by the University of Shanghai with which UCC has a long-standing relationship and have been granted by the Shanghai Municipal Government. During the summer school, the students will attend intensive Chinese language classes, an engaging lectures series programme and will be afforded the opportunity to experience the essence of Chinese culture.
Both students are very excited by the prospect of studying in China and are looking forward to putting their learning from UCC into practice. Kevin Rice enthusiastically noted that this opportunity "is about exchanging cultures and representing Ireland."
Nicola Byrne was delighted to have been given the opportunity to return to education and study at UCC this year and found the Higher Diploma in Chinese Business, Language and Culture to have been "very insightful, thought provoking and challenging." Nicola is hoping for greater insights into Chinese culture while abroad which will put "the theoretical aspects of the course to practice and is also grateful for the opportunity to study the language intensively in an authentic environment."
Lyndsey El Amoud, Business Development Officer from Adult Continuing Education at UCC who has responsibility for the UCC Springboard programmes, says "these scholarships are a great opportunity for the students to really fine tune the skills they have learned on the programme before they finish in the autumn and begin looking for work."
"Springboard courses, such as this one, can really help jobseekers improve their employability and hopefully, help them return to the labour market upon completion."
Digital Arts and Humanities and Marine Renewable Energy are some of the other courses on offer. For further information about UCC's 2014 Springboard courses, please call 021-4904700, email ace.springboard@ucc.ie or see http://springboard.ucc.ie for the full listing of courses.