2014 Press Releases
2014 Press Releases
Semesterisation sees early start for UCC students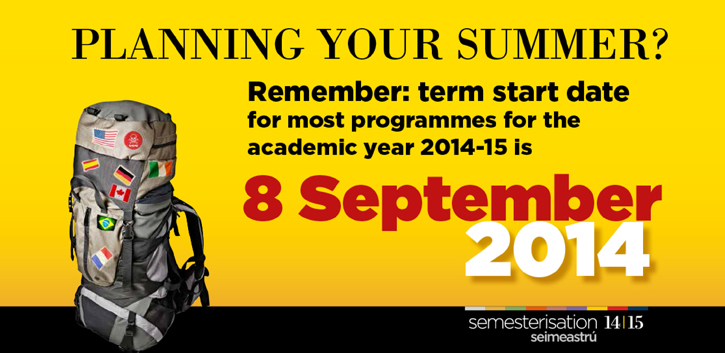 As students receive exam results and make plans to go abroad for the summer it is important that they know that the next academic year will start on 8 September.
UCC's teaching year will operate in a two-semester system - each semester consisting of 12 teaching weeks followed by a study period before assessment of course completed.
Semesterisation will result in a more even distribution of the student workload where exams will happen before Christmas and before the summer meaning that modules can be wholly taught and assessed in a single teaching period. This will mean fewer exams in the summer and grades will no longer be largely dependent on a single month of the year.
It is believed that the introduction of a semester-based system will improve the student learning experience and allow more flexibility in access routes to programmes and to their delivery.
With the earlier start it is important that students who may be working or travelling for the summer to be aware that the new academic year starts on the 8th of September for most courses. A guideline for semester dates for the coming year is as follows:
Semester 1 begins at the end of summer on 8th September 2014 for most courses (mid-August for some College of Medicine and Health students) and ends before Christmas.
Semester 2 starts in the middle of January and will wrap up by mid-May for most programmes.
If students or parents have any questions about semesterisation, they can read more at http://www.ucc.ie/en/semesterisation/ or email semesterisation@ucc.ie. UCC has run an information campaign over the past academic year to inform students about the changes in September.
Students - before you break for summer, don't forget the earlier start date for our semesterised 2014/15: Sept 8 http://t.co/vGf99PFlL7 @UCC

— UCC Faculty of Law (@LawUCC) May 21, 2014