2014 Press Releases
2014 Press Releases
Science Week - pure magic!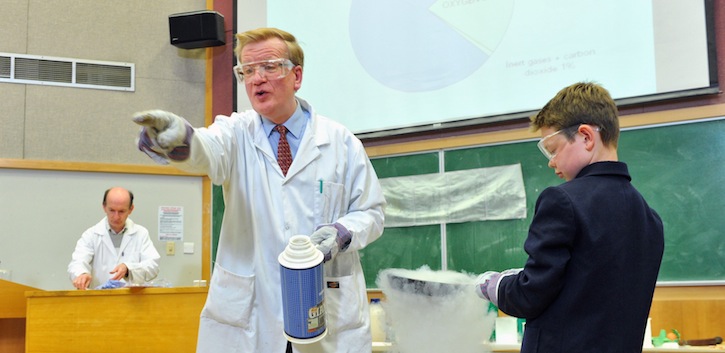 As national Science Week approaches from 9-16 November 2014, UCC is gearing up to showcase the relevance of science, technology, engineering and maths (STEM) in our everyday lives.
Coordinated by SFI Discover, the education and public engagement programme of Science Foundation Ireland, Science Week is a collaboration of events run by schools, teachers, colleges, students, researchers, companies, libraries and community groups throughout Ireland.
UCC will host a number of colourful events aimed at various audiences.
A Chemistry Magic Show will be held on Friday 7 November at 7.30pm in lecture theatre G1 Kane Building, UCC. Admission is by ticket only. This Chemistry Magic Show is a family event, suitable for children from 10 years and upwards and lasts one hour. A second Chemistry Magic Show will be held in UCC on Friday 14 November for chemistry students from secondary schools in Cork city and county. Tickets for both events are free and will be distributed on a first-come-first-served basis. They may be requested by sending an e-mail to Mr Brendan Fanning (brendanrupertfanning@gmail.com), outlining the number of tickets and date required.
Dr Declan Kennedy, Senior Lecturer in Science Education at UCC will host the show, with support from Mr Brendan Fanning and Donnacha O'Connell, Trevor Carey and Denis Duggan, Department of Chemistry in organising the ever popular event.
From the electricity that lights and heats our homes, to smartphones that connect us to family and friends, to robots that carry out intricate surgery, and space technology that reveals the secrets of the cosmos – science empowers us to shape every aspect of our world. The College of Science, Engineering and Food Science (SEFS) will host a full week of events to that end, aimed at those in primary and secondary school. Click here for more.
The Alimentary Pharmabiotic Centre (APC) will host the Cork-leg of the Celebrate Science festival as part of the week, kicking off with a family open day on Sunday 9 November in the UCC Western Gateway building with over 30 different workshops and displays for adults and children. Children and adults can choose from Lego Robotics, Light Fantastic, Disgusting Digestion, Maths and other workshops. There will be dancing robots, electric cars and Raspberry Pi.
While some of the events will appeal to younger kids (e.g. exploring the digestive tract of APC's Alimentary Adventures tunnel and some of the Lego workshops) many of the workshops and tours are for older teenagers and adults, such as tours of UCC Brewery and Bakery and the world-renowned Anatomy FLAME lab where our future doctors learn about the human body and the molecular biology workshops.
@UCC @CareersUCC @scienceirel come check out the insides of your gut, catch Alimentary Adventures in the Aula Maxima pic.twitter.com/6XYCqKwTBL

— APCCork (@Pharmabiotic) April 10, 2014
MaREI will give attendees an opportunity to track a mystery animal or test drive a remotely operated underwater vehicle or learn how their Xbox can be powered with renewable energy. IPIC scientists will allow them to use their Explore Photonics kits to explore the fascinating science of light in their interactive workshops.
At the Infant display the public will be able to hear baby brainwaves with their musical stethoscope and check out their iPad app to monitor brain development.
If you want to see what you look like inside the MATRIX, visit the Insight Centre display area and get your own personalised computer-generated portrait! Or you might like to check out some of the displays by local industries.
Celebrate Science continues in Cork during Science Week with an open night at the Tyndall National Institute on Wednesday 12 November and public forums each evening including:
"Climate Change and its Impacts; past, present and future" (Tuesday 11 November)
"Superbugs: friends and foes" (from influenza to ebola to bacteria and mental health)(Wednesday 12 November)
All events are free but many events need to be booked in advance and are filling up fast, so log on to http://celebratescience.eu/events-2/cork/ to book a place.
Celebrate Science is organised by the education and public engagement staff of 8 SFI research Centres: APC, AMBER, Infant, Insight, IPIC, Lero, MaREI & SSPC and is funded through SFI Discover's Public Engagement programme. SFI researchers will be on hand at all events, giving workshops, manning the interactive displays and taking the opportunities to discuss their research informally at the Open Days.
For more on Science Week generally, see http://www.science.ie/