2014 Press Releases
2014 Press Releases
Q&A proves therapeutic for students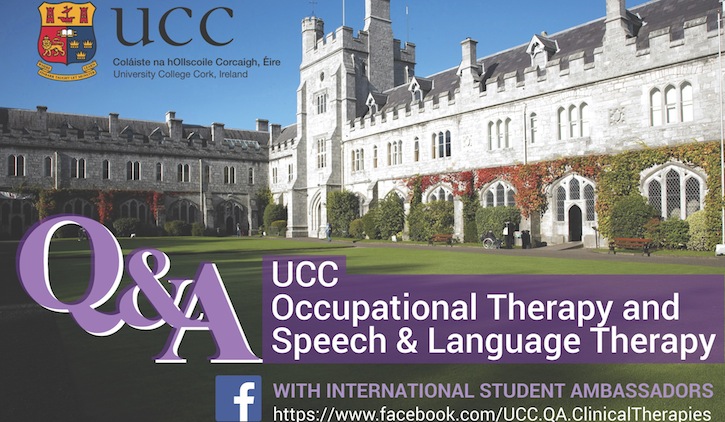 Students who are considering becoming an Occupational Therapy or Speech and Language Therapy professional can now turn to peers who are ready to field their questions.
The College of Medicine and Health at UCC has announced the release of 10 new places for students to become the Occupational Therapists and Speech and Language Therapists of the future. And to help encourage those interested in developing their career at UCC, international student ambassadors from the college will help facilitate a question and answer session on Facebook from Thursday 15th May (www.facebook.com/UCC.QA.ClinicalTherapies).
International student ambassadors from Brunei, Barbados and India who have gained first-hand experience in studying within the School of Clinical Therapies will answer questions concerning the programmes on offer and the prospect of living in Ireland, on a real time basis. Prof. Fiona Gibbon, Head of School, will also be on hand to help prospective students at home and abroad make up their minds.
The places are immediately available to commence in September 2014. These four-year honours degree programmes equip students to become future leaders in their profession.
Prof. Fiona Gibbon, Head of School comments: "In the School of Clinical Therapies we work with our students in small groups, which enables us to offer them individual attention so they develop and excel in a culture of support. Classes are held both inside and outside the lecture theatre providing students with learning opportunities both within theoretical and practical settings."
While acquiring a degree, students have the unique opportunity to discover Ireland with its breath-taking landscapes, beautiful culture, and friendly people. As the second largest city of the Republic of Ireland, Cork offers all of the advantages of a capital city, while at the same time staying manageable in size. Cork is a safe city to live in, offering a sense of security for students who for the first time are far away from home.
Since 1849, UCC holds a long and proud history of Medical Education and is a top ranking university.
UCC has an international focus that caters to the diverse needs of its students. World-class standards and a strong tradition of excellence, leadership and independent thinking across all clinical disciplines give students and academics the tools they need to develop to the highest calibre. We look to them to help us build the future, effect change and herald a new culture, a new philosophy and a new era in healthcare.
For further information, see http://www.ucc.ie/en/med-health/clinical-therapies or contact Dr. Fiona Gibbon on f.gibbon@ucc.ie