2014 Press Releases
2014 Press Releases
Puppy love…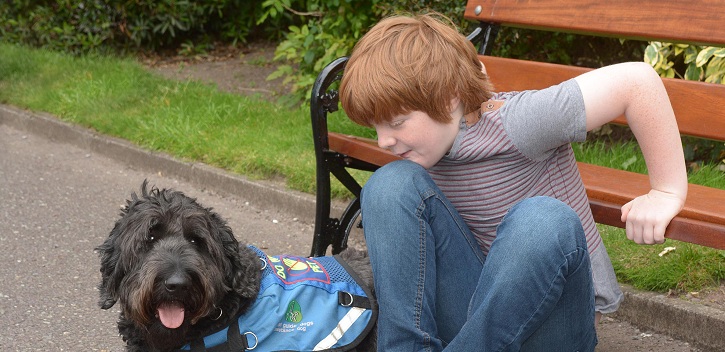 Research at UCC has shown that assistance dogs can act as a 'bridge' between children with autism spectrum disorder (ASD) and the physical and social environment.
The study carried out by the Department of Epidemiology and Public Health at UCC and published by British medical journal BMJ found that the dogs increased the safety, security and positive public reception of children with ASD. The research suggested that the presence of an assistance dog can make parents and guardians feel more competent in managing their child. The research highlighted the role that an assistance dog can play in promotion of child safety, calmness and provision of friendship. Furthermore, the study drew attention to the role the dogs have in facilitating 'normal' family functioning such as being able to visit a shopping centre. Parents/guardians believed that assistance dogs were particularly valuable in stopping children from 'bolting'. Constraints associated with having a dog related to specific lifestyle changes experienced by parents/guardians and the larger family group such in the minding of the dog.
UCC researchers are the first to capture the views of a large group of parents/guardians on assistance dogs for children with ASD. The participants in the study included parents/guardians with an assistance dog and those on the waiting list. The study analysed the responses of 80 parents with a dog and 84 from the waiting list who completed a questionnaire between October 2012 and March 2013. The questionnaire focussed on: (a) the impact of having an assistance dog on child safety from environmental hazards, (b) public acceptance and awareness of ASD, (c) sense of competence with managing a child with ASD and (d) levels of caregiver strain. They also obtained parents/guardians views on the primary benefits and constraints of having an assistance dog.
Autism spectrum disorder is one of the areas within which animal assisted interventions have had most success. This is particularly the case for assistance dog interventions, since dogs not only provide a possible mechanism for promoting improvements in social and behavioural functioning, they also play a part in stopping children running away and promotion of child safety. Once a child is attached to a dog via the leash and belt system the child cannot 'bolt'. In this study parents/guardians with a dog rated their child as considerably safer from environmental hazards than did parents /guardians on the waiting list.
Some quotes from the survey include:
She is his very best friend'. (Parent of 4-6 year old boy with ASD and assistance dog).
"A sense of security & protection for our daughter especially walking in local environments" (parent of girl 7-9yo with a dog),
"(Dog) will stop child from bolting from home" (parent of boy 4-6yo on waiting list).
"Ability to do maybe ordinary things and go to ordinary places" (parent of boy 7-9yo on waiting list),
"a sense of responsibility, for example he can feed the dog" (parent of boy 4-6yo with a dog).
(Re: constraints) 'There are none….our dog is a valuable and much loved addition to the family' (Parent of boy aged 4-6 with ASD and assistance dog)
Constraints of having an assistance dog:
"Its' like an additional child in the family"(parent of boy 4-6yo with a dog),
"To make time to go for walks everyday" (parent of boy 7-9yo on waiting list).
"My son may not connect with the dog" (parent of boy 4-6yo on waiting list),
"My concern is when the dog has to retire, how will my child cope?" (parent of boy 7-9yo with a dog).
The Irish Guide Dogs for the Blind who were the participating centre in this study are accredited members of the governing body Assistance Dogs International. Pups are born in a breeding stock holding family, and move to the puppy block in the training centre at 6-7 weeks for routine medical procedures (worming, microchip etc) and socialisation. They are sent to the puppy walking homes around 8-9 weeks where they remain for approximately one year. During this year they are regularly visited by trainers from the centre and they attend training groups at the centre. Once the pups have reached 12-14 months they return to the centre to begin their adult training. Each trainer works with a group of dogs for 12-14 weeks at which time they are usually at a level where they can be passed on to an instructor who will 'finish off' the training and match the dog to a suitable client.
Currently there are 188 service animal interventions registered with the standards body Assistance Dogs International (ADI). These interventions include guide dogs for the blind, hearing dogs for the hard of hearing, and service dogs for people with other disabilities including ASD.