2014 Press Releases
2014 Press Releases
No drama as Happy students graduate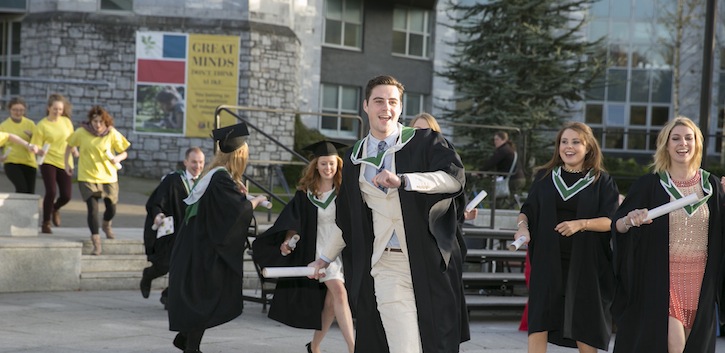 Family, friends and fellow students attending UCC autumn conferrings were left dazzled as a large group of Drama and Theatre Studies graduates showed just how happy they really were.
The new graduates surprised onlookers by breaking into a high-energy dance routine immediately after their ceremony, with the chosen backing track, 'Happy' by Pharrell Williams, summing up the spirit of the occasion nicely.
Co-ordinating the routine was choreographer Inma Pavon, a dance/movement lecturer with Drama and Theatre Studies UCC and assistant Drama and Theatre Studies lecturer Fionn Woodhouse. Inma has worked professionally in Ireland for the last 15 years with a variety of different artists. Recently she collaborated with composer John O'Brien in a film shown at INDIE Cork 2014 (Inner Landscapes). Fionn has worked in educational drama for the last 12 years with Graffiti Theatre Company, Lightbulb Youth Theatre and Footlights Youth Theatre. He is currently completing a Masters by Research with Drama and Theatre Studies UCC.
The Irish Examiner picked up on the story as the video went viral across Facebook and Twitter (Video by Tom McCarthy):
.@DTSUCC are making a song and dance about @conferrings :) via @irishexaminer @Kellingtondawg http://t.co/sgZvnjW6fY https://t.co/UytuJDvqsP

— UCC Ireland (@UCC) October 22, 2014
Drama and Theatre Studies at UCC is a vibrant community of emerging creative professionals led by a dedicated teaching team of practicing artists and researchers. It has strong connections within the theatre community – locally, nationally and internationally. It offers both joint and single honours degree programmes as well as extensive postgraduate options. See more at http://www.music.ucc.ie/drama/
Drama and Theatre Studies, the Office of Marketing Communications, Audio Visual Media Services and the Office of Media and Public Relations, UCC worked behind the scenes to make the event a success.
For more pictures from the day, click here.