2014 Press Releases
2014 Press Releases
Gut feeling about kids' adventure app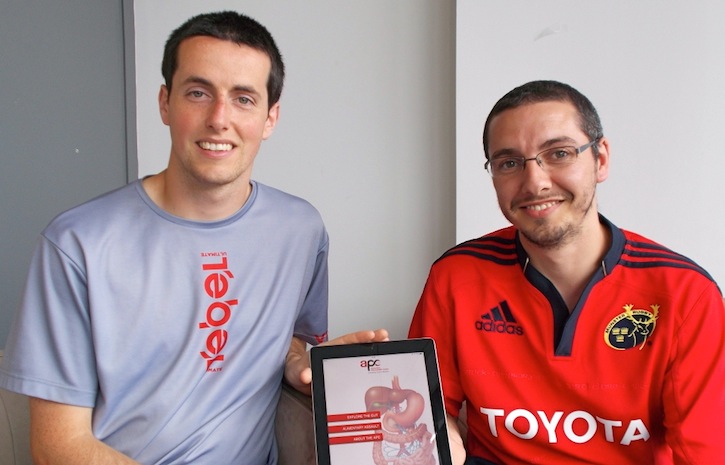 The Alimentary Pharmabiotic Centre (APC) has launched two new free apps that will have kids busy all summer long keeping the bad guys (pathogens) at bay.
The apps, available as 'Living Gut' on iPad and 'Alimentary Assault 3D' on Android, allows kids of all ages to explore the depths of the human gastrointestinal tract. More importantly, lots of fun is to be had keeping the gut safe - armed with probiotics of course!
The kids can learn all about the organs of the digestive tracts and the bacteria that can be found living in each area of the gut.
James Finn led the app development as part of his MSc in Interactive Media in collaboration with Dr Sabin Tabirca in UCC's School of Computer Science and Information Technology and APC's Marc McCarthy.
Hugo Guénebaut, age ten, of Cork Educate Together National School is already a firm fan:
"I really like playing Alimentary Assault – it's brilliant fun. And because I'm learning stuff, my Mum thinks it's great too!"
Both apps were developed as part of the Science Foundation Ireland-funded Alimentary Pharmabiotic Centre's innovative Education and Public Engagement programme, which also includes the enthralling 'Alimentary Adventures' walkthrough inflatable tunnel which mimics the human digestive system and the Microbe Magic website, which includes lots of activities for kids and additional games.
APC Neurogastroenterology group check out Alimentary Adventures at UCC Spring Open Day @UCC @scienceirel @jfcryan pic.twitter.com/kHUJl6LpKX

— APCCork (@Pharmabiotic) April 11, 2014
'Living Gut' for iPad and Alimentary Assault 3D for Android are now available to download for free.
Props @Pharmabiotic @el_sparko — 2 apps making science kid-friendly. Here's Alimentary Assault 3D, ironic bug fix! pic.twitter.com/uvSjl7eOUG

— Tom McCarthy (@PressTMC) July 18, 2014
The Alimentary Pharmabiotic Centre is a national centre for food and medicine funded by government and industry through Science Foundation Ireland's Research Centres' programme. The APC spans across University College Cork, Teagasc (Ireland's Agriculture & Food Development Authority) and Cork Institute of Technology.
APC's Apps Living Gut (iPad) & Alimentary Assault3D (Android) http://t.co/D418zNs6Sy @ucc @scienceirel @damienmulley pic.twitter.com/fbuXeUIUKL

— APCCork (@Pharmabiotic) July 16, 2014