2014 Press Releases
2014 Press Releases
Grad literally makes mark on White House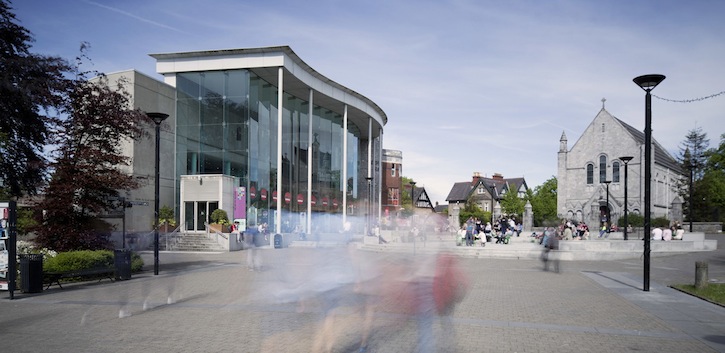 Recent UCC graduate Dr Meghan Coakley, one of the minds behind the NIH 3D Print Exchange, was honoured to have her research featured at an exhibition in the White House.
Dr Meghan Coakley was a featured exhibitor at the White House Maker Faire in Washington DC as part of the official launch of the NIH 3D Print Exchange.
Dr Coakley is a Scientific Program Analyst in the Bioinformatics and Computation Biosciences Branch at the National Institute of Allergy and infectious Diseases (NIAID), US National Institutes of Health (NIH). She began working there while completing her PhD thesis at her home in the US, after enjoyable years as a PhD and MSc (Applied Biotechnology) graduate student in the School of Biochemistry and Cell Biology, UCC, where she worked on projects in Alzheimer's disease and neurodegeneration.
In her new role, Meghan and her colleagues developed the NIH 3D Print Exchange, where she is co-lead on the project. This is a public website that enables users to share and download 3D print files related to health and science. The files can be used, for example, to print models of cells, bacteria, human anatomy and customised laboratory equipment.
For researchers, the most exciting part is the collection of free tools built into the site, which eliminate the need for any 3D modeling design experience. A registered user can upload a CT scan, molecular structure file, or volumetric data, such as a microscopy image stack, and to help new users, the site also features video tutorials on 3D modeling software, and a discussion forum to promote collaboration.
Dr Coakley says that developing the NIH 3D Print Exchange was " a whirlwind".
"We were on a really tight budget and a short timeline as part of a "seed-funding" initiative from the U.S. Department of Health and Human Services. The key was to figure out what people would want from this resource, since nothing like it existed."
"We knew we had to get it right, at least most of the way, to create a need and cultivate a user base. We had a small interdisciplinary team of scientists, software developers, graphic designers, and 3D modelling specialists, and we were all pushed out of our comfort zones, beyond our areas of expertise. For me the personal challenge was learning to write computer code."
She says that being featured as an exhibitor was "overwhelming."
"We were pleased to get encouraging feedback from our small group of beta testers, but catching the attention of the White House Office of Science and Technology Policy, and exhibiting in person at the White House Maker Faire was pretty exciting."
"Since then the response in the press and on social media has been overwhelmingly positive, and people all over the globe are adding or printing models every day."
NIH Director Dr Francis Collins comments that 3D printing is a potential game changer for medical research.
The mission of the NIH 3D Print Exchange site is to provide users – scientists, educators, students, DIYbio and 3D print enthusiasts – with high-quality, scientifically accurate models of molecules, bacteria, cells, and anatomy, and more which can be utilised for scientific visualization and discovery.
Dr Coakley explains that 3D printing has massive potential to open doors for new discovery on many levels, since the objects bring another dimension to the learning process.
"It goes far beyond research – I have seen five year old kids snap together a model of DNA. They can figure out the puzzle faster than a lot of adults. That goes a long way toward explaining the structure of the double helix and the fairly abstract concept of how a series of small molecules "defines" who you are."
"I also like to think of the doctor who can print a patient's CT scan and walk them through a surgical procedure or explain a mechanism of disease."