2014 Press Releases
2014 Press Releases
Fundraising goes far in Philippines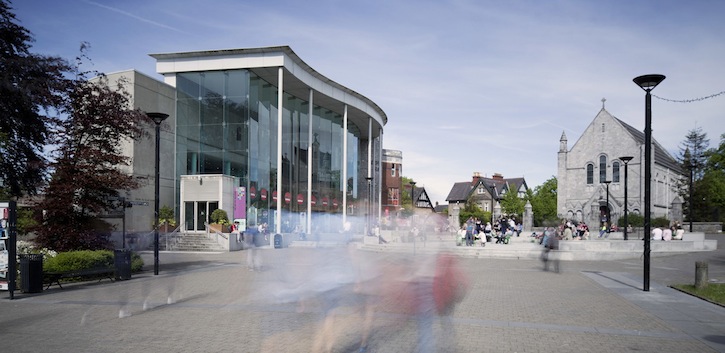 When UCC's Patrick Fitzgerald heard about the fallout of Typhoon Haiyan in the Philippines last winter, he knew he had to do something to help.
The devastating typhoon, which hit land November last, was one of the strongest tropical cyclones ever recorded. Four million people were directly affected by the storm with more than 6000 fatalities. Patrick, who works in research support at the Alimentary Pharmabiotic Centre (APC) in UCC, has a personal connection with the country.
"My wife is from the Philippines originally and based on what we saw in terms of the affect the typhoon had on the area, we decided we'd try and do something about it. It was very close to my wife's heart and she just wanted to try and give something back."
Patrick explains that in the Philippines, a very large divide between the rich and poor, believing that "we are just blessed that we have so many things here that we take for granted such as fresh water and food."
Rather than simply fundraise however, Patrick wanted to bring the proceeds directly to the people affected to ensure that it would go to those who needed it most. A Christmas bake sale in the Food Science Building, UCC was their first job to organise.
"We decided to ask people to come in and just start baking, donating and bringing and we were overwhelmed by the support we got from different people."
The bake sale raised €520 and with other donations from family and friends, they made close to €1000. The next step was to go about organising the logistics of travelling to the Philippines. For the Fitzgeralds, who have two young daughters, this trip was also an opportunity to see their family in the Philippines as well as do a good deed. The family made their way over in April, calling upon friends on the ground to help organise transport and volunteers. They paid for all travel costs themselves, ensuring that they could stretch the donated €1000 as far as possible.
Having travelled initially to Mindanao, visiting the affected area proved to be a challenge, requiring a ten-hour boat journey to Cebu and then finding someone to ferry them the remainder of the way.
"We got great help. We got in contact with a friend of ours who was able to put us in touch with people in Cebu who could help and there we spent all the money on food."
They visited Yolanda Village, a relocation area that is being built from the ruins of the typhoon. Patrick says that as bad as the situation is, a positive is to see people working together to rebuild their lives.
"The Filipinos are very resilient. In Yolanda Village they have people starting to rebuild houses and communities. As bad as they typhoon was and the number of people that lost lives, a good thing is coming out of it. They are surviving."
Their packages of rice and packaged foods were gratefully received with the local mayor announcing their arrival and providing more volunteers to help.
"Fresh water and fresh food are the main things they are looking for. It was fantastic to see that we could do something."
While Yolanda Village is proving to be a success, it is a very small step in terms of how much needs to be done. Patrick blames government corruption for failing to deliver aid money to people quickly enough as there are areas still awaiting aid.
Patrick however praises the Irish relief effort that he says are constantly fundraising and organising.
"What my wife and I have done is very small compared to the overall effort but small donations go a long way over there."
Work is still being done to keep a focus on the relief effort and with a lot more to be done Patrick encourages people to support groups such as United Filipino-Irish Association and Galway Filipino Irish Community (GFIC), who are continuing to fundraise.