2014 Press Releases
2014 Press Releases
Fulbright Awards for UCC staff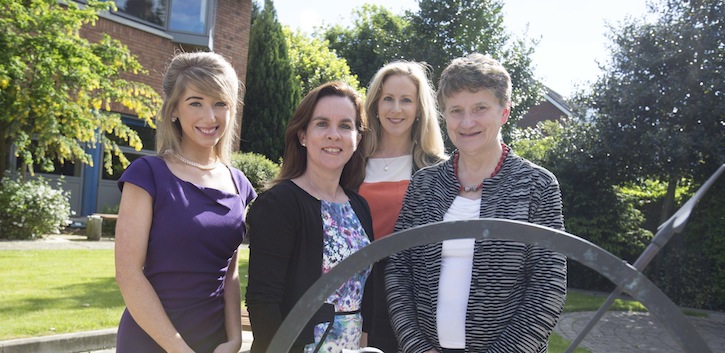 Four UCC academics are among a record breaking 40 Irish recipients awarded the Fulbright Award to undertake postgraduate study and research at higher education, cultural, and related institutions in the US.
Poet and writer Tom Healy, Chair of the Fulbright Scholarship Board, officially announced 40 new Irish Fulbright Awardees at an event at the U.S. Ambassador's Residence. Since 1957, the Fulbright Awards are given annually by the Irish and U.S. governments and provide Irish students, scholars, and professionals with the opportunity to study, lecture, and research at top universities and institutions throughout the United States.
UCC's four recipients are Dr Patricia Coughlan, Dr Mary C. Murphy, Dr Orla Murphy and Ms Christine Ryan.
Dr Patricia Coughlan, Professor Emerita at the School of English, will be researching the work of Irish-American novelist Elizabeth Cullinan and her cultural contexts at Fordham University.
Dr Mary C. Murphy, Fulbright-Schuman Scholar will be based at George Mason University, Virginia, and will research US processes of Congressional capacity-building. Dr Murphy will determine if such forms of dedicated training for national parliamentarians across Europe can contribute to a more legitimate and democratic EU legislative process.
Dr Orla Murphy is a Lecturer in the School of English, and in Digital Arts and Humanities at UCC. As a Fulbright-Tech Impact Scholar, Dr Murphy will focus on Digital Cultural Heritage, 3D model creation, immersive, interactive and augmented exhibition environments at Boston College, digitally enhancing access to the Centenary 2016 Celebration of the Irish Arts and Crafts Movement in Boston.
Ms Christine Ryan holds a degree in Law and Irish from UCC and an LL.M degree in International Law from University College London. As Fulbright Student Awardee, Ms Ryan will undertake a PhD in Judicial Science, specialising in equality law and reproductive rights.
Mr Patrick McDermott, Chair of the Fulbright Commission Board, commented: "The breadth and diversity of specialist knowledge, combined with immense leadership ability, makes this contingent an incredibly powerful group of representatives for Ireland. Each individual has overcome a rigorous selection process where research and study objectives were judged based on their potential to drive the Irish knowledge economy. However, their mission extends even beyond academia."
Mr McDermott continued: "Fulbrighters are recognised for their capacity to forge meaningful collaborations between Ireland and the US. This element of inter-country collaboration is crucial to driving creativity which is at the core of all innovation and Fulbright itself. Recognising global needs in digital technology, the Irish Fulbright Commission has also launched the TechImpact Awards this year. These are new short-term grants intended to facilitate faster movement for cutting edge digital research. This year's six TechImpact candidates will explore areas such as optical communications, online laboratory environments, human-computer interaction technology and digital humanities."
A number of other agencies sponsor Fulbright Awards including CRH plc, Enterprise Ireland, the Marine Institute, the Environmental Protection Agency and Teagasc. The Irish Language Awards for teachers are supported by the Department of Arts, Heritage, and the Gaeltacht and the National Lottery.
Speaking about the diverse nature of the awardees, Ms. Colleen Dube, Executive Director of the Fulbright Commission, added: "Year on year Irish Fulbrighters provide a fascinating insight into the direction of progressive global research. This year we have seen a particular increase in research that crosses traditional academic boundaries as the digital world impacts on everything around it. Fulbright provides a unique platform for Ireland's brightest scholars to forge ahead in breaking new ground, while collaborating with other world class researchers in making a genuine difference to society."
The next round of applications for Irish Fulbright Awardees will open on Tuesday, August 26th, 2014. Interested applicants in all disciplines are encouraged to visit the Fulbright Commission's website, www.fulbright.ie, for more information. All applications for the 2015-2016 academic year will be due on Wednesday, November 12th, 2014.