2014 Press Releases
2014 Press Releases
EU billions on the horizon for researchers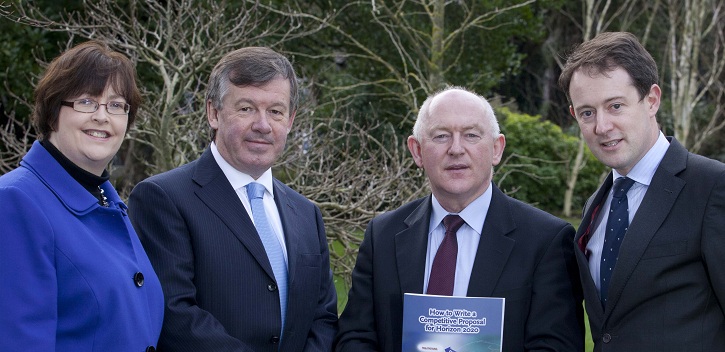 Cork businessman, Dr Seán McCarthy, launched a book in University College Cork advising researchers on how to secure up to €1.25bn EU funding under Horizon 2020 scheme.
"Accessing up to €1.25bn worth of Horizon 2020 EU funding could be the key to unlocking Ireland's economic recovery and creating thousands of new jobs", said Dr Seán McCarthy, CEO of Cork based company, Hyperion and author of a new book launched at UCC today by Seán Sherlock TD, Minister for Research & Innovation.
The book, 'How to write a competitive proposal for Horizon 2020', advises research institutions on how best to write competitive proposals to secure funding under the EU's €80 billion Horizon 2020 Research and Innovation programme. The Government has ambitious goals for accessing this funding, aiming to win €1.25bn worth of the EU's new €80bn programme for research and innovation.
Horizon 2020 is the biggest ever EU Research and Innovation programme with nearly €80 billion of funding available over seven years (2014-2020). The programme was devised by the EU as a means to drive economic growth and create jobs through research and innovation.
Speaking at the launch of the new book,Minister for Research and Innovation, Seán Sherlock, TD, said "I would like to congratulate Dr Seán McCarthy on the launch of his new book. Ireland is well positioned to benefit from Horizon 2020, building on the excellent performance in the previous EU programme for research and development, the Seventh EU Framework Programme (FP7). Horizon 2020 is a vital part of the new research and industry collaboration we have set for Ireland. Having set these ambitious targets, hopefully this book can help researchers on the journey to reaching those targets".
Dr McCarthy's book comes on the back of the success of his Cork based company, Hyperion Ltd. Founded in 1997, the company specialises in helping European-wide organisations design and implement their European research strategies for funding. Dr McCarthy has grown a European wide business, advising over 45,000 researchers at training courses in 290 research centres across 29 countries. Hyperion also works closely with the Research Support Services in UCC, testing all of the research training material in the University.
Welcoming Dr McCarthy's new book, Dr Michael Murphy, President of UCC, said "Research and innovation are key drivers of growth and job creation and I am delighted that the EU has reached agreement on the c. €80 billion Horizon 2020 programme. Dr McCarthy's book provides invaluable insight and direction to researchers on how best to approach their funding applications. The Horizon 2020 programme represents a new era for UCC researchers, allowing them to come together in multidisciplinary teams, reach out to collaborators in Ireland, Europe and the world, and achieve vital economic and societal impact for their research and innovation. UCC has a strong performance history in securing EU funding and we look forward to continuing to work with Dr McCarthy to build on our previous successes."
Speaking at the launch of his book, Dr Seán McCarthy, CEO of Hyperion, said: "Today is a very significant day for Hyperion. Any researcher will tell you that winning EU funding is not a straightforward process. It is estimated that 100,000 proposals will be submitted to Horizon 2020 but that only a fifth of projects (20,000) will be funded during the period 2014 to 2020. This book is geared towards improving researchers' chances of being in the 'golden fifth'. The book describes the evaluation process and provides advice to researchers on how to put correct strategies in place to maximise their chances of submitting successful funding application."
Dr McCarthy continued, "Potential applicants can be intimidated by the seeming complexity of the Horizon 2020 process but complexity should not be accepted as a reason for not participating. If you look at the sport cricket, initially it appears complex but if you study the rules and the scoring system, it is not so complex. This book is geared towards breaking down the 'rules' of the application process for Horizon 2020 funding. Excellent support services have been put in place for Horizon 2020. All universities have dedicated offices to assist researchers in participating and UCC has a new support service, PrimeUCC, to assist researchers in individual proposals. There is no reason why, with the correct approach and strategy, Ireland will not be very successful in securing funding."
UCC Vice-President for Research and Innovation, Professor Anita Maguire echoed this sentiment, saying "Ireland has experienced great success in competing for EU research awards to date. Higher education institutions in particular have been very successful, securing over 62% of the total Irish draw down of €570 million funding from the 7th Framework Programme for Research (FP7). UCC performed particularly strongly in this programme receiving more than €67 million from over 190 awards, reflecting a success rate of 20.8%. Horizon 2020 provides vast opportunities for Irish universities and companies to secure essential funds that will bolster the economy, foster job growth and drive continued innovation."
Dr Seán McCarthy's book, 'How to write a competitive proposal for Horizon 2020' is available to purchase at the Hyperion website: www.hyperion.ie