2014 Press Releases
2014 Press Releases
Engineering Science inspires entrepreneurial culture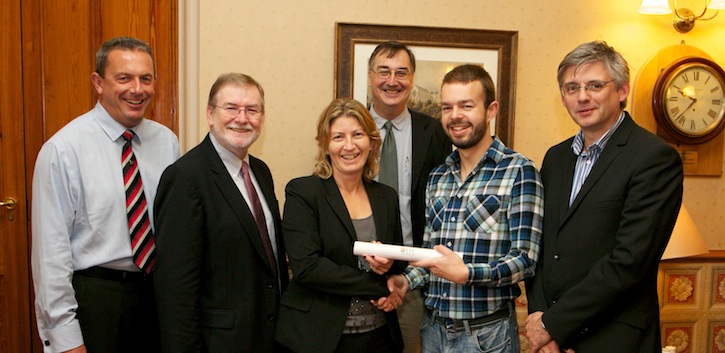 Hot on the heels of a stellar performance in the UCC Entrepreneur of the Year Awards (2013), PhD student Cormac Ryan is first to complete the Postgraduate Certificate in Innovation, Commercialisation and Entrepreneurship.
A doctoral student (Engineering Science) in the Tyndall National Institute, Cormac from Newtownshandrum in Co. Cork has completed the Level 9 qualification offered by the College of Business & Law at UCC. A number of other students are also nearing completion.
The PhD (Engineering Science) is administered and coordinated by Tyndall as part of the INSPIRE national graduate education programme.
Professor Ursula Kilkelly, Head of College of Business and Law, UCC, complimented Cormac on completing his business studies and highlighted that "the teaching team behind this initiative represents a range of Business and Law disciplines and it is great to see initiatives from the College of Business and Law that contribute to UCC as an entrepreneurial university coming to fruition."
Professor Kieran Drain, CEO of Tyndall National Institute, identified the pathway as "…part of Tyndall's drive to provide excellence in science and engineering education while also instilling an entrepreneurial culture within our graduate community. This is a critical vocational skill that enhances scientific research training allowing students to apply their knowledge in a commercial manner."
Cormac and fellow Tyndall PhD student Rosemary O'Keeffe have already demonstrated their entrepreneurial skills by winning a major prize at the UCC Entrepreneur of the Year Award 2013 with a wireless gait analysis product.
More on the Postgraduate Certificate in Innovation, Commercialisation and Entrepreneurship:
Click here for a course breakdown. For further queries on this programme, please contact Dr Brian O'Flahery, Programme Director on boflaherty@afis.ucc.ie or Tel No: + 353 21 4903335