2014 Press Releases
2014 Press Releases
€45K raised for Irish Cancer Society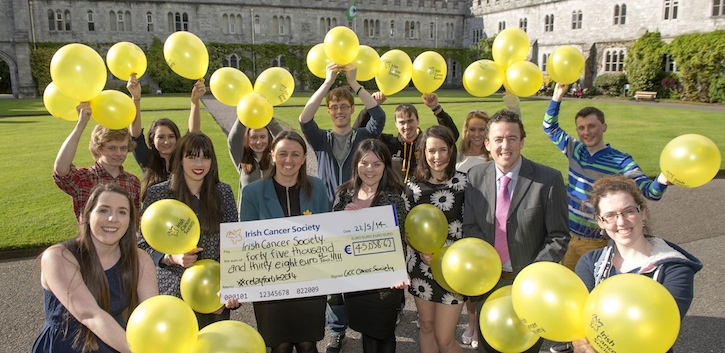 As exam season draws to a close, the UCC Cancer Society have released the final count from their Relay for Life fundraising – a whopping €45,118.
Relay for Life is a 24-hour fundraising and awareness event in aid of the Irish Cancer Society.
As an American Cancer Society creation, Relay for Life events take place all over the world and through the huge undertaking of the UCC Cancer Society it was brought to UCC for the second year running on the 27th of February 2014.
Relay for Life UCC 2014 raised €45,108 which will go towards funding local cancer charities and Irish cancer research.
Over the course of the event's 24 hours, more than 800 UCC students, staff and community members gathered in teams of between ten and twenty people and took turns to walk the track at the Mardyke Sports Grounds - ensuring at least one representative of their team was walking at any given time. The event, which also incorporated a celebration of cancer survivors, a remembrance ceremony, live entertainment, games and many awareness campaigns, follows the motto "Celebrate. Remember. Fight Back!"
€45,108 is a record achievement for the UCC Cancer Society, which has only just completed its second provisional year as a society. Over the course of the two years, the society has raised close to €70,000 solely for the Irish Cancer Society, as well as raising funds and awareness for other cancer charities.
Relay for Life UCC received several internal and national awards and nominations this year, including 'Best Event' and 'Best Charitable Event' at UCC's Society Awards (STARS), 'Best Promotional Campaign' at the National Board of Irish College Society Awards (BICS) and a nomination for 'Best Charitable Event' at the 2014 USI Awards.
With the incredible response Relay for Life UCC has garnered to date, the event is set to become a UCC tradition. UCC Cancer Society's third Relay for Life will take place in February 2015.