Latest News
Latest News
UCC student wins Student Entrepreneur of the Year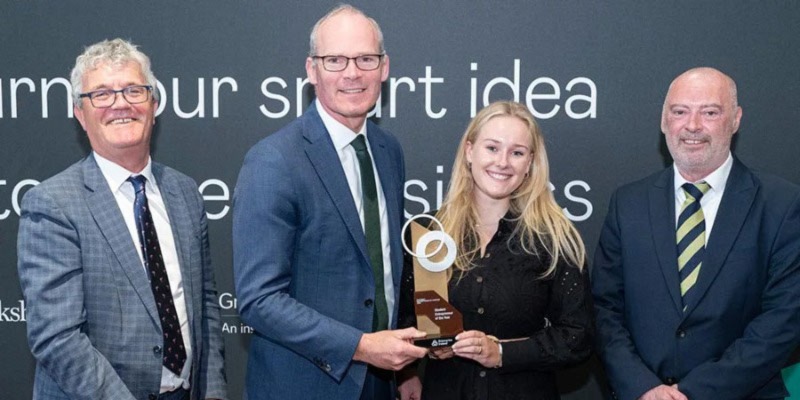 Emma Coffey won Enterprise Ireland's top prize for her sustainable sportswear company, FinalBend.
The Minister for Enterprise, Trade and Employment, Simon Coveney, TD, announced UCC student Emma Coffey as the winner of Enterprise Ireland's Student Entrepreneur of the year Award at a ceremony in University College Cork.
FinalBend was founded by UCC commerce student and Quercus Scholar, Emma Coffey. FinalBend is an innovative, sustainable affordable sportswear company, based in Cork.
As a competitive pole vault athlete, Emma founded FinalBend to meet a need – for affordable, sustainable, attractive athletic clothing. Selling online, orders are designed, packed and dispatched from the company's warehouse in Blackpool, Cork.
Since its inception, FinalBend has grown through leveraging an authentic marketing style garnering over 75k followers and a 50k strong customer base.
Final Bend was one of ten finalists at the awards and the team received €10,000 as part of the Enterprise Ireland student prize. FinalBend will also receive mentoring from Enterprise Ireland to develop their products and explore new market opportunities.
Speaking at the awards ceremony, Minister for Enterprise, Trade and Employment, Simon Coveney, TD, said: "The innovation and scope of projects in this year's Student Entrepreneur Awards is remarkable. We've seen 10 shortlisted projects bringing new thinking and innovation to areas such as sustainability, healthcare, infant gifts, sportswear and SME marketing. The quality of entries is a credit to the student entrepreneurs, their academic supervisors and their institutions."
"Today's awards celebrate the thriving entrepreneurial spirit in the third-level sector in Ireland and I want to acknowledge the role that the sponsors play in showcasing this ambition and talent of our young entrepreneurs and I look forward to following the success of this year's entrepreneurs in the coming months and years."
Accepting the award, Emma Coffey said: "I'm so honoured to be named the overall winner at the Enterprise Ireland student Entrepreneur Awards, with my company FinalBend. I'm so thankful for the support of UCC and Quercus in helping me throughout my entrepreneurial journey, the competition was steep with the inspirational other student businesses so I am truly grateful."
Richard Murphy, Manager LEO Support, Policy & Co-ordination Unit, Enterprise Ireland said: "Fostering the next generation of Irish entrepreneurs is a priority for us at Enterprise Ireland and the Local Enterprise Offices and it is great to be here on what is the 42nd year of these awards. We've seen a remarkable slate of shortlisted projects from very ambitious and innovative teams, supported by their academic institutions. These Awards are an important milestone in these young entrepreneurs' business journey providing them with a platform and resources to explore the potential of their ideas and the opportunity to turn these into thriving businesses."
This is the 42nd year of Enterprise Ireland's Student Entrepreneur Awards, which are co-sponsored by Cruickshank, Grant Thornton and the Local Enterprise Offices.
The awards are open to all third-level institutions across the country.
Along with the prize money, the winners will also benefit from comprehensive business advice and mentoring from Enterprise Ireland and the Local Enterprise Office, Intellectual Property consultancy and protection from Cruickshank and business plan development from Grant Thornton.