Latest News
Latest News
Maoiniú de luach €1m buaite ag pobal-thionscnamh Gaeilge de chuid Choláiste na hOllscoile, Corcaigh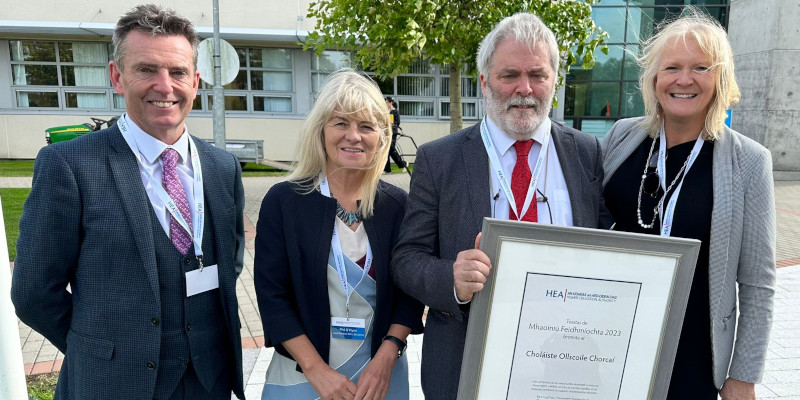 Bhí pobal-thionscnamh Gaeilge de chuid Choláiste na hOllscoile, Corcaigh, ar na cúig buaiteoirí faoin Mhaoiniú Feidhmíochta de chuid an Údaráis um Ard-Oideachas 2023 a fógraíodh ag ócáid in Ollscoil Teicneolaíochta an Oir-Dheiscirt i gCeatharlach inné.
Faoi cheannas an Ollaimh Phádraig Ó Macháin, Stiúrthóir Ionad na Gaeilge Lahartha UCC, atá na tionscnamh seo. Sa bhliain 2017 chuaigh UCC i bpáirt le Coláiste Pobail Thraolaigh Mhic Shuibhne i gCnoc an Chuilinn, Cnoc na hAoine, i dtuaisceart chathair Chorcaí, chun tacaíocht a thabhairt dóibh i mbunú Aonaid Lán-Ghaeilge sa scoil, mar a ndéanfaí gach ábhar a theagasc tré Ghaeilge, ón gcéad bhliain ar aghaidh go dtí an Ard-Teistiméireacht. Freagra ar éileamh ón bpobal féin ab ea é seo, go gcuirfí rogha sa mheánoideachas ar fáil dá bpáistí i gceantar ina mbraitheann go leor daoine go bhfuil siad fágtha i leataoibh ag an saol. Tugadh cuireadh do UCC páirt a ghlacadh sa togra seo, agus ba dá thoradh sin a bunaíodh Barr na gCnoc.
Comhpáirtíocht phobail is ea Barr na gCnoc. Páirtíocht is ea é idir Coláiste Pobail Thraolaigh Mhic Shuibhne, pobal Chnoc na hAoine, Coláiste na hOllscoile Corcaigh, agus an Bord Oideachais agus Oiliúna.
Bhain an tacaíocht a sholáthraigh UCC don scoil nua le réimsí éagsúla. Cuireadh ragana barr feabhais ar fáil do na múinteoirí sa scoil Bhéarla i dtreo go bhféadfaidís aistriú go dtí an tAonad Lán-Gaeilge. Faoi urraíocht na Comhairle um Oideachas Gaeltachta agus Gaelscolaíochta a eagraíodh na ranganna sin. Cuireadh scoláiríochtaí ar fáil do na daltaí nua agus eagraíodh turasanna ar an nGaeltacht dóibh. Bhí i gceist leis an dtacaíocht chomh maith gur ghlac ionadaithe ó UCC páirt i gcruinnithe poiblí a bhain le bunú an Aonaid.Eagraíodh ranganna Gaeilge chomh maith do na tuismitheoirí.
Príomh-thoradh Barr na gCnoc, tar éis gur bunaíodh an tAonad Lán-Ghaeilge, ná go bhfacthas gur fheidhmigh an t-oideachas lán-Ghaeilge sa cheantar bocht seo mar fhuascailteóir oideachasúil agus sóisialta do na daltaí. Bhí cruthú feabhsaithe acadúil le tabhairt faoi deara iontu, agus dearcadh nua ina measc i leith rudaí dob fhéidir leo a bhaint amach i gcúrsaí oideachais san am athá le teacht. Bhí i gceist chomh maith, cumasú pobail, rud nárbh ionadh ós ón bpobal féin a d'eascair an togra chéadlá. Na torthaí suaithinseacha seo go léir a dheimhngh gur thogra é Barr na gCnoc dob fhiú tógaint air agus a fhairsingiú.
Is de bharr a rathmhaire is a bhí an tionscnamh tosaigh seo a fuair Barr na gCnoc aitheantas i bhfoirm mhaoinithe ón Údarás um Ard-Oideachas inné. Cuirfidh an maoiniú mór seo an tionscnamh i gcumas ar leathnú amach go scoileanna eile agus tacaíocht sa Ghaeilge a sholáthar dóibh sna trí bliana athá romhainn.
D'fháiltigh Uachtarán UCC, an tOllamh Seán Ó hAllmhuráin, roimh bhronnadh an ghradaim seo ar Bharr na gCnoc:
"Tá áthas mór orm go bhfuil an t-aitheantas agus an tacaíocht shuaithinseach seo faighte ag Barr na gCnoc ón Údarás um Ard-Oideachas," arsa sé. "Eisiomláir ar luachanna UCC maidir le hoideachas agus caidreamh pobail is ea é. Cruthú is ea é, leis, gur féidir le daltaí blathú ach go bhfaighidh siad an tacaíocht choir."
- - -
HEA funding of €1 Million awarded to UCC Irish-Language community project
A UCC Irish-language community project, Barr na gCnoc, was among the five winners under the Higher Education Authority (HEA) Performance Funding 2023 awards announced yesterday at a ceremony in the South East Technological University (SETU), Carlow campus.
This project, led by Professor Pádraig Ó Macháin, Head of Ionad na Gaeilge Labhartha at UCC, was piloted in Knocknaheeny Community College where an Aonad Lán-Ghaeilge was established in 2019 with support from the university. The proposal to establish the Aonad came in response to the local community's demand for educational choice in an area of high socio-economic exclusion. The ensuing collaboration involved the school, the Knocknaheeny community, the ETB, and UCC.
The major finding of the project was that in an area of social marginalisation, the Irish language, and education through Irish, could be both an educational and a social enabler. For the pupils, it has proved to be transformative in matters such as academic performance, and development of self-confidence and sense of identity. An important feature to emerge was that pupils have begun to nurture aspirations with regard to further education beyond leaving certificate level, and to see a future as one of optimism and opportunity.
This support provided by Barr na gCnoc involved upskilling teachers in the Irish language, the provision of scholarships and Gaeltacht visits for pupils, public advocacy, and support for parents and guardians wishing to learn Irish. Regular school and community visits to UCC were also facilitated in Ionad na Gaeilge Labhartha. The upskilling classes were sponsored by An Chomhairle um Oideachas Gaeltachta agus Gaelscolaíochta.
The emergence of these outcomes made it desirable that the project move beyond the pilot stage to that of consolidation and expansion. Recognition of the value of Barr na gCnoc by the HEA led to yesterday's funding announcement, which will ensure that it can now develop further and seek to replicate in other schools and in other situations what has been achieved to date in Knocknaheeny.
Professor Pádraig Ó Macháin said the HEA Performance Funding will enable this project to develop and grow.
"This award is recognition for the Irish Language, and for education through Irish, as a transformative mechanism that offers encouragement to students and that opens new pathways and new ways of thinking for them. The funding will allow us to pursue this philosophy with schools in a coordinated way over the next number of years, and perhaps to extend the boundaries of what the Irish language has to offer, especially for students whose options might be restricted by socio-economic circumstances," he said.
UCC President Prof. John O'Halloran congratulated all involved in Barr na gCnoc on their success to date.
"I am delighted to see Barr na gCnoc receive this worthy recognition and support from the HEA. It is an exemplar of UCC values – education, outreach, and community and also proof positive that young minds can flourish if given the right kind of support," he said.