2019
2019
Lord Puttnam scholars announced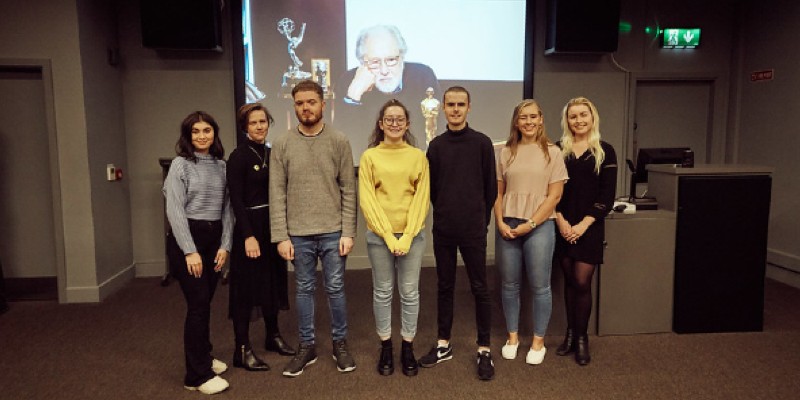 University College Cork has announced seven new recipients of the prestigious Puttnam Scholarship programme, which commenced with a series of six seminars with Lord David Puttnam.
The scholars Ellen O'Regan, Jessica Donohoe, Marcus Hogan, Conach Gibson, Casey Hynes, Mary Kelleher and Harry White come from a wide range of academic backgrounds, from medicine to sustainability, and all hope to pursue careers in Ireland's creative industries.
The Puttnam Scholars will work together to make a short film, which will be shot and edited in the summer of 2020, and screened as part of a presentation to Lord Puttnam and invited guests. Each of the students also receive a bursary of €1500.
The Puttnam Scholarship programme offers UCC students from any discipline the opportunity to work with and learn from Lord David Puttnam, Oscar-winning producer of films including Chariots of Fire, The Mission, The Killing Fields, and Midnight Express.
"To work with one of the world's best film producers at the start of your career is a remarkable student experience. Lord Puttnam has vast knowledge of every aspect of film production; he is also at the forefront of policymaking and positioned at the most pioneering end of the creative industries," said Dr Ciara Chambers, Head of Film and Screen Media, UCC.
The scholars
Ellen O'Regan (22) from Cobh in Co. Cork is currently in the final year of a law degree and hopes to become a writer.
Jessica Donohoe (23) from Crosshaven is a final year student in Medicine and Surgery in UCC who has always been passionate about the arts and attended the Montfort College of Performing Arts and Cork School of Music for 10 years to pursue training in dramatic studies.
Marcus Hogan is a Final Year World Languages Student who has a particular interest in East-German perspectives on German reunification and Human Rights Literature in the Chilean and Argentinian context.
Conach Gibson is a 22 year old Criminology student studying at University College Cork. After being born in the United States and later moving to Ireland, Conach's lived experiences have shaped her understanding of different societies and historical contexts. She believes that film production is an important aspect of spreading and sharing information to a wider audience, especially those outside of academia.
Casey Hynes is a student in the MA in Film and Screen Media in UCC. She is from Mitchelstown, Co. Cork and hopes to pursue a career in the film industry, namely in screenwriting, directing and editing.
Mary Kelleher is a student in the Masters Program in Planning and Sustainable Development in UCC and is particularly interested in human ecology and environmental psychology.
Harry White, is 20 years old and a final year student of the BA in Film and Screen Media at UCC, his debut film The Lion's Den (2018) was selected to be screened at the Indie Cork Film Festival.