News and Events
News and Events
Publication of MDE Ireland report for the triennium 2013 - 2015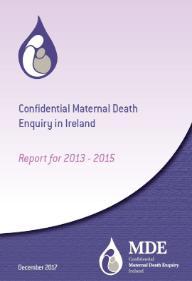 MDE Ireland is pleased to announce the publication of a report for 2013 – 2015. This is the third report published by MDE Ireland.
Confidential-Maternal-Death-Enquiry-Report-2013-2015
Maternal Mortality Report Launch Meeting
The Maternal Death Enquiry (MDE) Ireland is pleased to inform you that bookings are now open for the MBRRACE-UK report launch meeting that we will be held in Dublin on Monday 11th December 2017.
The meeting will launch two reports: MBRRACE-UK Saving Lives, Improving Mothers' Care Surveillance of maternal deaths in the UK 2013–15 and lessons learned to inform maternity care from the UK and Ireland Confidential Enquiries into Maternal Deaths and Morbidity 2009–15 and The MBRRACE-UK Perinatal Confidential Enquiry Report.

MBRRACE-UK Joint Perinatal Confidential Enquiry and Maternal Mortality Report Launch Meeting
Venue: Royal College of Physicians of Ireland (RCPI), Dublin
Date:11th December 2017
Registration for the meeting is available at: https://www.npeu.ox.ac.uk/mbrrace-uk/bookings
Feedback from previous launch attendees:
"Great day – inspiring"
"An excellent day with insightful, high quality talks"
For all queries regarding registration please contact, Kate De Blanger (conference@npeu.ox.ac.uk).
We look forward to seeing you at the meeting.
The National Perinatal Epidemiology Centre (NPEC) in conjunction with CMACE hosted a launch of the Eighth Report of the Confidential Enquiries into Maternal Deaths in the UK, Saving Mothers' Lives 2006 – 2008 in Dublin.

Read more

MDE Ireland is pleased to announce the publication of a report for 2009 – 2012. This is the second report published by MDE Ireland and appears in the wake of publication in December 2014 of the first report incorporating Irish data in the long-established UK Confidential Enquiry into Maternal Deaths. It covers the same timeframe as the latter, and provides further detail on Irish data.

Read more