Annual GENOVATE Symposium
Annual GENOVATE Symposium
GENOVATE ANNUAL Convention
Transforming commitment into action — towards gender equality for academic and research excellence was the theme of the GENOVATE Annual Symposium held in Aula Maxima here in UCC on 11th March 2015.
Programme
Welcome Address
Professor Anita Maguire, Vice-President for Research and Innovation, University College Cork
The GENOVATE Journey So Far
Professor Uduak Archibong, GENOVATE International Director and Professor of Diversity, University of Bradford
Gender Equality in Higher Education in Ireland
Mr. Muiris O'Connor, Head of Policy and Strategic Planning, Higher Education Authority (Ireland)
KEYNOTE ADDRESS
Professor Inés Sánchez de Madariaga
Professor of Urban Planning at Madrid School of Architecture and Advisor to the European Commission on Gender and Research
Discussion and Closing Comments
Dr. Caitríona Ní Laoire, GENOVATE@UCC Scientific Coordinator, University College Cork
4.00-5.00pm
LEARNING MARKET with tea/coffee
Transforming Commitment into Action for Gender Equality in Research - Interactive displays by GENOVATE partner universities
Guest Speakers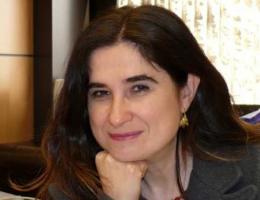 Inés Sánchez de Madariaga is an architect and planner, and a leading international expert on gender and city planning with extensive experience in both public policy and research. She is Professor of Urban Planning at Madrid School of Architecture and an Advisor to the European Commission on Gender and Research. Inés is a Co-Director of th EC-EU Gendered Innovations project, and Chair of the international network Gender, Science, Technology and Environment, genderSTE, which brings together representatives from stakeholders of 40 countries in Europe and beyond committed to advance research and policy in the fields of gender in planning, transport, energy, and climate change. She was Chair of the European Commission Expert Group on Structural Change of Research Organizations which produced a roadmap for action to promote women and gender in research, and is leading and advising a number European projects, including TRIGGER, Genport, GENOVATE, and RRI Tools. She is a member of the Advisory Council to REDS, the Spanish network of the UN Sustainable Development Solutions Network (UN-SDSN).
She has held public office as Director of the Women and Science Unit at the Spanish Minister's Office for Economy and Competitiveness; member of the Cabinet of the Minister of Science and Innovation; Executive Advisor to the Minister of Housing; member of the Board of Directors of Spain's Public Housing Corporation; and Deputy Director General for Architecture. She has been a member and spokesperson of the Spanish delegations to both the UN Commission on Sustainable Development and to the Commission on the Status of Women on a number of occasions and an invited speaker at high-level UN conferences, including the World Urban Forum.
Inés has been a visiting professor at leading international universities among them the London School of Economics, Columbia University, and Weimar-Bauhaus University. She lectures nationally and internationally, in Spanish, English and French. She holds a PhD from the Technical University of Madrid and a Master of Science from Columbia University in New York, where she studied as a Fulbright grantee.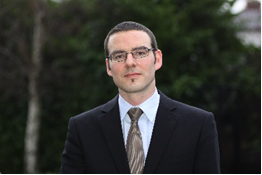 Muiris O'Connor is Head of Policy and Planning in the Higher Education Authority (HEA) of Ireland. Further to joining the HEA in 2006 as Senior Policy Analyst, he served as Acting Head of the National Office for Equity of Access to Higher Education (July 2007–July 2008) before assuming his current role.
Before joining the HEA, Muiris spent five years as Statistician in the Department of Education and Science, prior to which he worked with the Conference of Religious of Ireland (CORI), the Economic and Social Research Institute (ESRI) and with the National University of Ireland, Galway (NUIG). He has written on a range of education policy issues and has a keen interest in gender in education.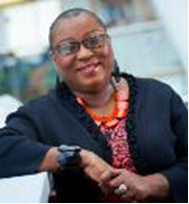 Prof Uduak Archibong is the GENOVATE International Director. She is Professor of Diversity at the University of Bradford and Director of the Centre for Inclusion and Diversity and Strategic Advisor for Equality, Diversity and Inclusion across the institution including institutional delivery of the gender equality plan which has recently been incorporated into the single equality strategy and action plan.
In addition to managing the University's Equality and Diversity Unit, she has led to completion numerous large-scale projects on diversity competent leadership development, representational diversity and inclusive workplaces including a recently completed EC funded collaborative research on Positive Action Measures in the EU, Canada, United States and South Africa (PAMECUS).
Prof Archibong has published extensively on inclusion and diversity. She is on the editorial board of a number of academic journals and champions equality and diversity at every opportunity. She is the Guest Editor of a recently published Special Issue of the Journal of Psychological issues in Organisational Culture entitled 'Reframing Diversity Interventions in Austere times'.
GENOVATE Open Day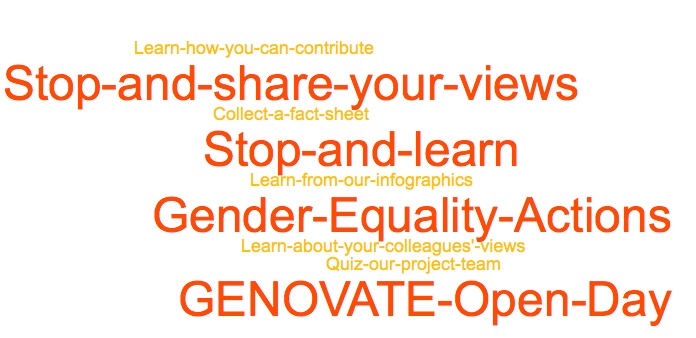 Would you like to learn more about GENOVATE proposed Gender Equality Actions for UCC?
Come along to the GENOVATE OPEN DAY on September 8th 2015 all day in the Aula Maxima!
Programme
Drop in —anytime from 10am or for midmorning coffee, lunch or afternoon tea.
10.00-17.00 Stop and learn about our proposed Gender Equality Actions for UCC.
10.00-17.00 Stop and share your views about our proposed Gender Equality Actions for UCC or learn about your colleagues' views.
Refreshments – all welcome (first come, first served!):
11.00-12.00 Morning Coffee
13.00-14.00 Light Lunch
16.00-17.00 Afternoon tea
We look forward to seeing you there.
‌