News
News
IGNITE Information Webinar - Discover How IGNITE Can Help You Start Your Business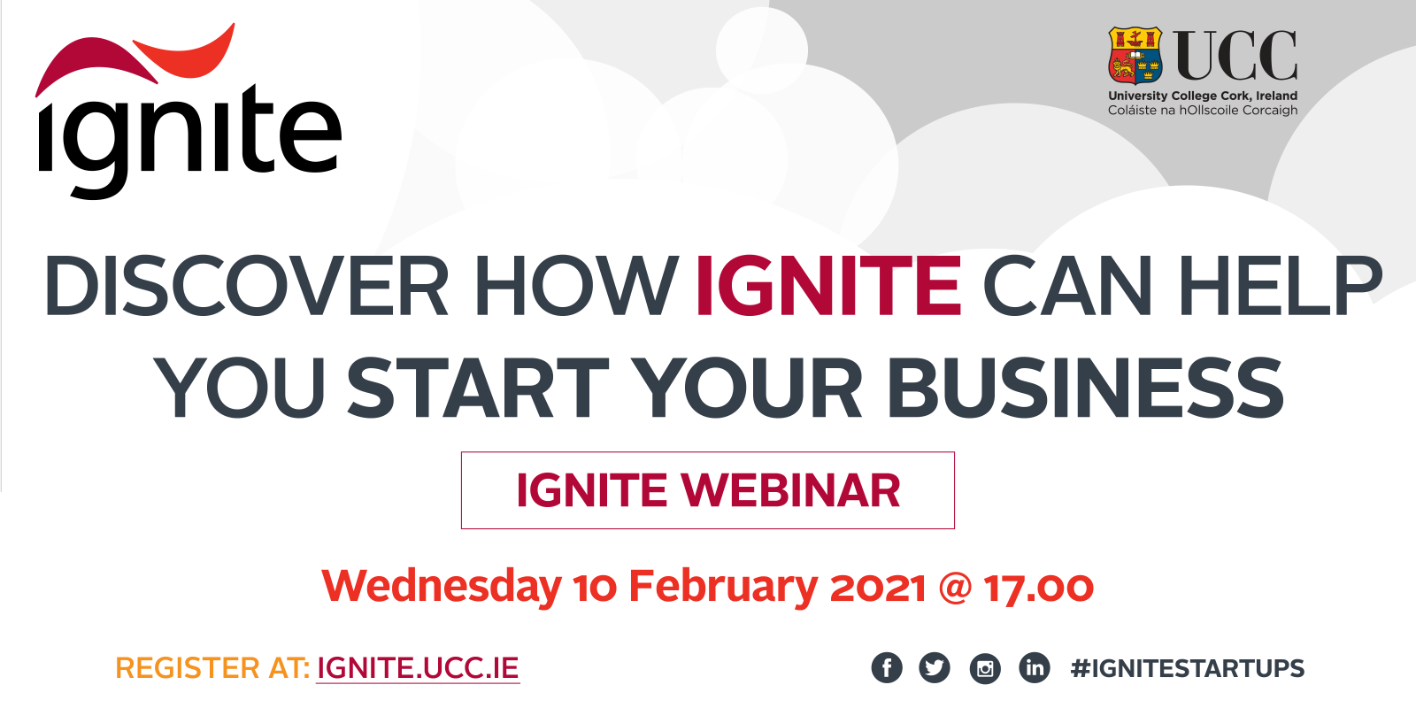 Do you want to hear more about the IGNITE Programme? Join us on Wed 10 Feb at 17.00 for an information webinar. The IGNITE team, Eamon Curtin - Director and Michelle Dorgan - Programme Manager will talk about IGNITE, what it entails, the application process and answer any questions you may have.
So sign up today and hear how IGNITE can help you start your business. Register for the webinar here.
Applications for the 12month programme close 19 February and we are looking for recent graduates with ambition currently working either full-time or part-time on start-up ideas that have potential for commercial or social impact. Apply here.
Since its inception in 2011, the Programme has supported 120+ start-ups that have applied a range of technologies in sectors such as food, pharma, health, finance, retail and media.
This year we are particularly interested in receiving applications from graduates with start-up ideas in the following sectors, Food and Agri Tech, Social Innovation, Business and Financial Services, Healthcare and Life Science, Energy and Marine.
10 reasons you should start your business with IGNITE:
We select just 10 businesses for each IGNITE programme to ensure that founders get the support they need when they need it.
Our supports include practical workshops and seminars in areas such as business model innovation, marketing, sales, finance, law, taxation and investment.
And we help develop and fine tune personal business skills such as pitching and presenting, networking and relationship building.
We have an extensive network of entrepreneurs, business owners and industry executives available to offer advice and guidance on a one-to-one basis as required.
And we have regular guest entrepreneur speakers who share their stories in small group sessions.
All our founders have access to a shared workspace in the Western Gateway Building at University College Cork and can access many of our supports online.
And they benefit from the support of UCC's research, commercialisation and academic expertise.
Founders enjoy free membership of Cork Chamber and IT@Cork.
We provide early seed funding for each start-up
And we do not take an equity stake in your company.