Announcements
Announcements
Exhibition: Caspar Walter Rauh. Discovering an unknown German Surrealist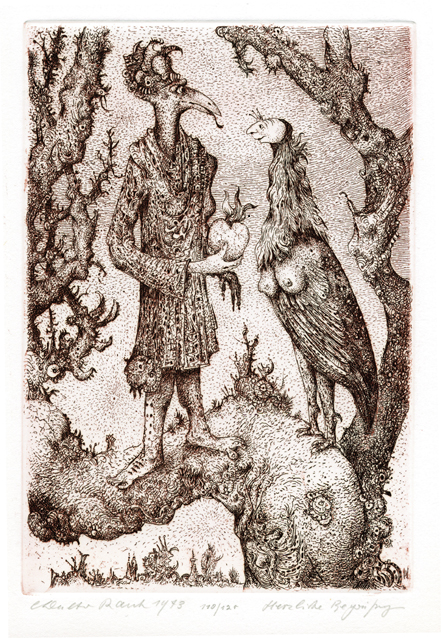 The Department of German at UCC, in cooperation with the Boole Library, will launch an art exhibition presenting engravings by the German surrealist Caspar Walter Rauh on Thursday, 13 October 2016 in the UCC Boole Library.
Rauh (1912-1983) was a German graphic artist, illustrator and painter working in the tradition of Fantastic Realism and Surrealism. Despite the huge initial success of his drawings and engravings after World War II, inspired by traumatic experiences as a soldier in Russia, public interest in his works declined as Germany turned its back on the war. He became an outsider who was ignored by mainstream art. It is only in recent years that Rauh's work has been rediscovered with its Bosch-like testimony to the cruelties of the war. This exhibition displays some of his finest engravings, mostly created after 1960 – technically brilliant phantasmagorias reminiscent of earlier traumas but increasingly revealing the artist's whimsical sense of humour and his inclination towards the idyllic and bizarre. Dream-like images, oscillating between barbaric violence and fairy-tale fantasies, reflect the complexity of a highly original artist.
The exhibition has been organised and sponsored by the Boole University Library, UCC, the Department of German, UCC, and Hans-Walter Schmidt-Hannisa, NUIG, curated by Crónán Ó Doibhlin and Gert Hofmann.
All are welcome to attend the launch of the exhibition, in presence of the German Ambassador, H.E. Matthias Höpfner, on Thursday, 13th October at 6pm in the Boole Library exhibition area, followed by a wine reception.
Opening hours are Tuesdays to Saturdays in line with the regular opening hours of the Boole Library. Admission is free. The exhibition ends on 31st December 2016.